Site Notice
Please check our Coverage page to see what deserves an article and what doesn't.
Be sure to join the discussions going on our board.
Resident Evil: Revelations
Resident Evil: Revelations
バイオハザード リベレーションズ
Baiohazādo Riberēshonzu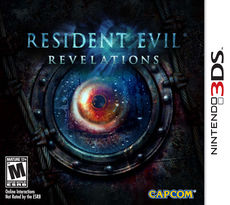 North American Nintendo 3DS box art.
N. America:

3DS: January 27, 2012
Wii U: May 21, 2013

Japan:

3DS: January 26, 2012
Wii U: May 23, 2013

Europe:

3DS: February 7, 2012
Wii U: May 24, 2013

S. Korea:

3DS: September 20, 2012
| | |
| --- | --- |
| ACB: | MA |
| CERO: | D |
| ESRB: | M |
| GRB: | 18 |
| PEGI: | 16 |
| USK: | 16 |
Resident Evil: Revelations is a survival-horror game in Capcom's Resident Evil series, developed for the Nintendo 3DS and released in 2012. It is the first Nintendo 3DS game overall to make use of the Circle Pad Pro accessory, allowing players more standard camera control.
In 2013, a high-definition port was released for the Wii U, as well as for Xbox 360, Microsoft Windows, and PlayStation 3. The game would also receive a follow-up as Resident Evil: Revelations 2 in 2015, though it was not released for Nintendo platforms.
| | |
| --- | --- |
| | This section is a stub. You can help NintendoWiki by expanding it. |
An abandoned cruise ship holds the secret to a global bio-terrorism conspiracy, with evil creeping in every shadow.
The truth will surface.
Revelations is set during the five-year interim between Resident Evil 4 and Resident Evil 5. Jill Valentine and Parker Luciani are sent out to find clues as to the location of Chris Redfield and Jessica Sherawat at their last known location: the Queen Zenobia, a cruise ship in the Mediterranean Sea. Jill and Parker quickly find that the ship has become infested with B.O.W.s (Bio Organic Weapons) that have been infected with the T-abyss virus. They later find where they think Chris is being held, but it is a trap set up by an agent of Il Veltro, who wants to infect the world's oceans with T-abyss. Jill and Parker must now stop the Veltro agent and solve the mystery behind who is controlling these events.
Gameplay
[
edit
]
Resident Evil: Revelations combines the third-person gameplay of later Resident Evil games with the survival-horror style of the original titles. The game is structured into episodes, most of which involve the player traversing the Queen Zenobia to advance the plot, though episodes may also take place in other settings. Players can carry three primary at one time and switch between them, switching to a first-person perspective when firing. Players can also access their secondary weapons and the Genesis, which allows players to scan enemies and find hidden items, on the HUD on the bottom screen / Wii U GamePad. Also on the HUD is a map, as well as a prompt leading to a full menu which allows players to view their items.
Raid Mode is also available, in which one or two players, either locally or online, can play through the game's stages in a more action-oriented style of gameplay. By playing missions in Raid, players can earn EXP to level up and currency to unlock new weapons and items at the in-game store.
Revelations also supports Miiverse for its HD re-release, loading comments for the zombies to speak as well as allowing players to post and view posts whenever they die.
Technical details
[
edit
]
Downloadable content
[
edit
]
The Wii U version of the game supports downloadable content in the form of costume packs and weapon packs. Included are:
Weapon packs: Includes Jill's Samurai Edge + Custom Part: "S.T.A.R.S.", Parker's Government + Custom Part: "FBC", and "Jessica's G18 + Custom Part: "BSAA"
RAID Outfit: Costumes for characters for use in Raid mode; includes "Rachael Ooze" (Rachael's mutated form in the game) and "Lady Hunk" (Hunk with a female body and bare legs)
Upgrade Parts: Packs with six custom parts for weapons; includes "Resistance Set" (to take out enemies) and "Enhancement Set" (to enhance weapons)
External links
[
edit
]