Super Nintendo Entertainment System
From NintendoWiki, your source on Nintendo Information. By Fans, For Fans.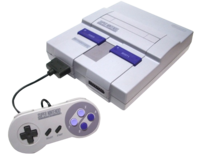 The Super Nintendo Entertainment System (abbreviated to SNES, Super NES or Super Nintendo, Japanese: Super Famicom) is a video game console created by Nintendo. It was the successor to the original Nintendo Entertainment System and rivaled in performance to the Sega Mega Drive/Genesis.
The Super Famicom was released in Japan on November 21, 1990. The Super Nintendo Entertainment System was released in America on August 13, 1991, and later in Europe in April, 1991 and in Australia in July, 1991. The SNES was released in South Korea as the Super Comboy by Hyundai Electronics, due to the country's embargo on Japanese products at the time. Unlike the Comboy, which was a rebranded American NES, the Super Comboy was a rebranded European/Japanese SNES.
The console was discontinued in Europe in 1999. In Japan, the console was discontinued in 2003. The Japan-only Satellaview service lasted until 1999, and games were developed for the console until 2000.
Despite facing fierce competition from 32-bit consoles during the mid-1990s, the SNES remained the most popular console until the 64-bit era. To compete with the trend of CD drive console add-on of the 32-bit era, Nintendo worked with Sony to create the SNES CD, or Nintendo Playstation. Unfortunately Nintendo's deal with Sony fell through after Nintendo went with Philips instead, and Sony took the project and turned it into the Sony Playstation. Nintendo's deal with Philips fell through, too, but Nintendo allowed Philips to use the Mario and Zelda franchises for its interactive CD player, the CD-i.
Similarly to the NES, the SNES was re-released as the SNES 2, which had a redesigned shell and used the same RF chip as the Nintendo 64. The SNES 2 was also released at the same time as the N64.
External links
Template:Super Nintendo Entertainment System

| Color TV-Game | Arcade | Pokémon |
| --- | --- | --- |
| | | |