Touch Panel Adaptor
From NintendoWiki, your source on Nintendo Information. By Fans, For Fans.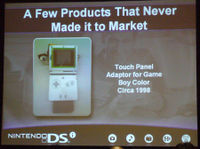 The Touch Panel Adaptor was a Game Boy Color accessory in development around 1998, and would have given the system the ability to accept touch-based inputs.[1] According to designer Masato Kuwahara, the device was not well received when he proposed it, presumably due to the Game Boy Color having a dark, non-backlit screen.[1][2]
The prototype was later demoed to Shigeru Miyamoto after the release of the Game Boy Advance SP, as a potential accessory for that console.[3] Although it was better received and Miyamoto liked the product, it still was never released.[2][3]
The touch screen concept would later be incorporated into the Nintendo DS; Kuwahara has stated that he would like to think that it was his prototype that inspired the decision.[1][3]

References