Site Notice
We have a limited coverage policy. Please check our coverage page to see which articles are allowed.
Please no leaked content less than one year old, or videos of leaks.
Content copied verbatim from other websites or wikis will be removed.
Nintendo VS. System
Jump to navigation
Jump to search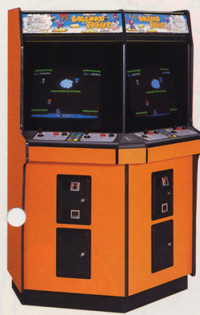 The Nintendo VS. System is an arcade machine using the same type of chips on the Play-Choice 10 used for competitive play. Almost all the games on the VS. System ran on identical hardware, with the notable exception that four special PPUs (video chips) were also made, each containing a different palette (each of which appears to arrange the colors completely randomly). Most boards could be switched to a new game simply by swapping the program ROMs, though the appropriate PPU would also have to be used - if not, the game would appear with incorrect colors. Several of the later VS. games employed further measures of protection by using special PPUs (Palette Processing Unit) which swapped pairs of I/O registers and/or returned special data from normally unimplemented regions of memory - attempts to run these games in other VS. systems would result in the game failing to even start. Some games had higher contrast and details the the original ones released on the NES. They lasted from 1987 to 1990.
List of Nintendo VS. System machines
*:Third party franchise
| | |
| --- | --- |
| | This article is a stub. You can help NintendoWiki by expanding it. |