Site Notice
Please check our Coverage page to see what deserves an article and what doesn't.
Please join in a discussion about our coverage.
Be sure to join the discussions going on the NIWA Wikis Discord Server.
Please no leaked content, however information from interviews and information data-mined from officially released products is allowed.
Difference between revisions of "Mario Party"
Jump to navigation
Jump to search
---
Revision as of 06:29, 22 June 2011
Mario Party
マリオパーティ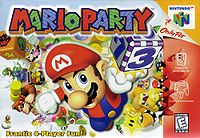 Boxart of Mario Party
| | |
| --- | --- |
| N. America: | February 8, 1999 |
| Japan: | December 14, 1998 |
| Europe: | March 9, 1999 |
| Australia: | March 9, 1999 |
Mario Party is a Mario game that was released on the Nintendo 64. It was released on December 14, 1998 in Japan, and February 8, 1999 in North America. It is the first game in the Mario Party Series
Blurb
It's not just a board game... ...it's an Adventure!
Tensions mount for Mario and pals as each declares himself to be the one true Super Star of Marioland. Face your friends and family in a contest of strength, wits and agility as you explore 6 thriling Adventure Boards. Reveal new levels of gaming excitement as you customize your boards with speed blocks, warp blocks and other specialty items. Jam-packed with all the electricity of an entire arcade, the action comes alive for up to 4 players. So grab your friends and get ready for a wild ride because this party never ends!
Story
Mario and pals are fighting over who is better. Toad suggests that they go to Mushroom Village to find out who is the Super Star. They all take a Warp Pipe there to find out who is best.
Gameplay
Mario Party basically takes place on a board game setting. Each player roles a dice, and the number that is rolled, the player moves that many spaces. The goal of the game is to get the most stars. Whoever has the most stars by the end of the game wins. After everybody has had their turn, a mini-game is played. There are 56 games in all.
References
External Links
| | |
| --- | --- |
| | This article is a stub. You can help NintendoWiki by expanding it. |