Site Notice
Please check our Coverage page to see what deserves an article and what doesn't.
Please welcome our first Editor-in-Chief, Toa 95! Congratulations!
Please no leaked content less than one year old, or videos of leaks.
Pokémon TV
Jump to navigation
Jump to search
Not to be confused with Pokémon Channel.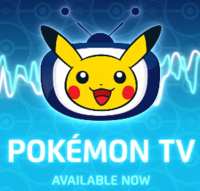 Pokémon TV is a Nintendo Switch service and application released by The Pokémon Company International for watching Pokémon the Series episodes, Play! Pokémon matches, and "Junior" content for young viewers. It is like a successor to the Nintendo Anime Channel or Kirby TV Channel.
Pokémon TV was released on August 26, 2021.[1]
Details
Supported Languages: English, Spanish, Portuguese, French, German, Italian, Dutch, Russian
Supported Play Modes: TV and Dock, Joy-Cons detached, Joy-Cons attached
Required Space: 108 MB
Number of Players: 1
Supported Controllers: Nintendo Switch Pro Controller
Save Data Cloud: Supported
Genre: Lifestyle/Other
Release Date: 26/08/2021
References
| | |
| --- | --- |
| | This article is a stub. You can help NintendoWiki by expanding it. |
Nintendo online services
 • Famicom Network System (Famicom, 1988)
 • Satellaview (Super Famicom, 1995)
 • Randnet (Nintendo 64DD 1999)
 • Mobile System GB (Game Boy Color/Game Boy Advance w/Mobile GB Adapter and mobile phone, 2001)  • Online Nintendo GameCube gameplay (Nintendo GameCube, w/GameCube Broadband Adapter/Modem Adapter, 2002)
 • Nintendo Wi-Fi Connection (Wii, Nintendo DS Lite, Nintendo DSi, Nintendo DSi XL optionally w/Nintendo Wi-Fi USB Connector, Nintendo DS & DSi Browser, 2006)
 • Nintendo Network (Nintendo 3DS, Wii U, Web, 2012/3)
 • Nintendo Switch Online (2018; Nintendo Switch)
 • Websites (Nintendo web browser games)