Site Notice
Please check our Coverage page to see what deserves an article and what doesn't.
Be sure to join the discussions going on our board.
Color TV-Game
Jump to navigation
Jump to search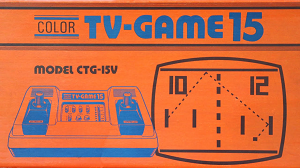 Color TV-Game (カラーテレビゲーム) refers to Nintendo's first five gaming consoles.
The consoles include the Color TV Game 6, Color TV Game 15, Color TV Game Racing 112, Color TV Game Block Kuzushi, and Computer TV-Game. Color TV Game 6 and 15 are based on Pong and Block Kuzushi is based off of the arcade game Block Fever. Computer TV Game is based off of another early arcade game by Nintendo, Computer Othello.
| | |
| --- | --- |
| | This article is a stub. You can help NintendoWiki by expanding it. |