Ever Oasis
From NintendoWiki, your source on Nintendo Information. By Fans, For Fans.
Ever Oasis
Ever Oasis 〜精霊とタネビトの蜃気楼〜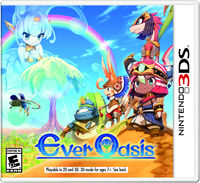 North American box art.
| | | |
| --- | --- | --- |
| Developer: | | Grezzo |
| Publisher: | | Nintendo |
| Platform: | | Nintendo 3DS |
| Category: | | Action role-playing |
| Players: | | 1 |
| Predecessor: | | N/A |
| Successor: | | N/A |
N. America:

June 23, 2017[1]

Japan:

July 13, 2017[2]

Europe:

June 23, 2017[3]

Australia:

June 24, 2017[4]

S. Korea:

EN: June 26, 2017
JP: July 13, 2017[5]
| | |
| --- | --- |
| ACB: | G |
| CERO: | A |
| ESRB: | E10+ |
| GRB: | A |
| PEGI: | 7[6] |
| USK: | 6 |
Ever Oasis is an action role-playing game developed by Grezzo, released for the Nintendo 3DS in June 2017.
To promote the game, Nintendo will be releasing a series of short movies revolving around the game's world and story.
Blurb
E3 2016 website
EXPLORE THE WORLD TO EXPAND YOUR OASIS­ - AND YOUR ADVENTURING HORIZONS

From the team behind The Legend of Zelda: Majora's Mask 3D comes a daring new adventure that expands on everything RPG fans love about the genre. As a chosen Seedling, your mission is to build a prosperous oasis by working with your partner, lsuna. Meet and ally with members of other tribes to complete your mission, while battling against the Chaos threatening peace in the desert. Battle enemies in real-time combat as you switch between three party members and explore a savage desert. Forage for materials in caves and puzzle-filled dungeons to earn dewadems, which are used to grow new shops and even grow gear! Features:

Dive into a new take on the Adventure RPG genre in a brand new IP.
Explore a savage desert, deep caves, and puzzle-filled dungeons.
Forage materials to make products at shops, or synthesize equipment and items at your treehouse.
Complete missions to recruit new villagers, each with their own shops, weapons and abilities, then bring them exploring/foraging.
Earn dewadem, currency, over time as shops sell their wares to build new Bloom Booths.
Developed by GREZZO Co., Ltd. the team behind The Legend of Zelda: Majora's Mask 3D
Battle wildlife that are possessed by Chaos and other enemies in real-time combat, while actively switching between party members.
Immerse into a beautifully created world inspired by Egyptian culture/mythology.
Nintendo website
The desert's last safe haven is a lone oasis you call home.

So draw a line in the sand and fight to protect it! As you explore the desert and solve puzzling dungeons, you'll gather resources to build up your oasis with the water spirit Esna. Allies will join your cause, so equip them with weapons, and use their skills to slay towering bosses.

The Ever Oasis game is a new action-adventure RPG grown from the ground up by Koichi Ishii, creator of the Mana series and producer at GREZZO, the studio that rebuilt multiple The Legend of Zelda games for the Nintendo 3DS family of systems. Their team has crafted puzzles and traps too perilous for one hero to solve. So recruit a party of allies and level up their stats to learn new battle skills. Then return to your oasis and restore it: choose which shops to build, stock their inventories, collect a share of the profits, and keep villagers happy by fulfilling requests. Before long your oasis will blossom into a beacon of hope for all walks of life in the desert. Don't let them down.

Defend the last standing oasis and help it flourish with the water spirit Esna
Explore a perilous desert, deep caves, and puzzling dungeons
Grow your oasis by completing quests, recruiting allies, and building shops
Switch between party members with distinct fighting styles in real-time battles
Allies have innate skills and battle skills, which level up as your oasis grows, along with stats
Story
The story of Ever Oasis revolves around Tethu, a young Seedling whose home lies within the last safe haven in the desert, a lone oasis. It is Tethu's job to work with the water spirit Esna to build up the oasis and defend it from monsters.
Gameplay
| | |
| --- | --- |
| | This section is a stub. You can help NintendoWiki by expanding it. |
Technical details
Media

Nintendo 3DS Game Card
Digital download

Download size

6,246 blocks

Input / compatible controllers

Nintendo 3DS
Updates
| Version Number | Date Released | Size | Description |
| --- | --- | --- | --- |
| 1.1 | June 23, 2017 | 88 blocks | Gameplay adjustments. |
External links


Ever Oasis on other NIWA Wikis:
References
↑ Nintendo Direct 4.12.2017. Nintendo (YouTube; April 12, 2017). Retrieved April 12, 2017.
↑ Nintendo Direct 2017.4.13 プレゼンテーション映像. Nintendo 公式チャンネル (YouTube; April 12, 2017). Retrieved April 12, 2017.
↑ Nintendo Direct - 12.04.2017. Nintendo UK (YouTube; April 12, 2017). Retrieved April 12, 2017.
↑ "Work with Water Spirit Esna to defend the world's last Oasis in Ever Oasis, releasing June 24 on #3DS."Nintendo AU NZ on Twitter (April 12, 2017). Retrieved April 12, 2017.
↑ Ever Oasis on Nintendo of Korea's website. Retrieved June 26, 2017.
↑ Daily Briefs (Apr. 18): EU boxarts / Sonic Mania / Sonic Forces / Samus figma (MP3 ver.). Perfectly Nintendo (April 18, 2017). Retrieved April 18, 2017.