Shigeru Miyamoto
From NintendoWiki, your source on Nintendo Information. By Fans, For Fans.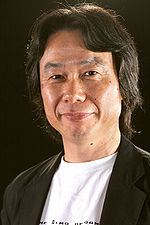 Shigeru Miyamoto (宮本茂, born November 16, 1952) is a world-famous video game designer and creator, known as the man behind five of Nintendo's most well-known franchises: Super Mario, The Legend of Zelda, Star Fox, Pikmin and F-Zero. His titles are characterized by sophisticated control-mechanics and interactive worlds in which the player is encouraged to uncover things for themselves.
History
In his early childhood, he was raised in the small, rural town of Sonobe, Japan; which was near his current home of Kyoto, about ten blocks from Nintendo headquarters. His home lacked a television, so he would spend a large amount of his time exploring the surrounding countryside. One time, he discovered a large series of caves. He returned with a lantern and spent the summer spelunking.
Miyamoto wanted to make things that would astonish the world. He considered becoming a puppeteer, a painter, and later made toys. He decided to study industrial design at Kanazawa Munici College of Industrial Arts and Crafts in 1970. He only attended class half the time, so it took him five years to graduate.
Miyamoto was 24, and had shaggy hair when he had his father contacted an old toy company friend, Hiroshi Yamauchi. The company's name was Nintendo. Yamauchi requested to see some toy designs, to which Miyamoto responded to by returning with a bag of goodies, and an amazing portfolio. Miyamoto became Nintendo's first staff artist in 1977.
Nintendo
Employed by Nintendo (then a toy company) as an artist, in 1980 he was given the task of designing their second arcade video-game after their first one, Radar Scope, which was a horrible failure in America. Yamauchi called Miyamoto into his office, as he was the only staff member available at the time. He questioned Miyamoto about his knowledge on this new concept. After some licenses fell through, the resulting arcade game, 'Donkey Kong', was a colossal success and the game's lead character, Mario (then known only as "Jumpman"), would later become Nintendo's mascot. Miyamoto rapidly became Nintendo's star producer, was given his own team: R&D 4, later known as the Nintendo EAD, and built a large stable of franchises for the company, most of which are still active and very well-regarded.
At odds with customary industry practices, Miyamoto showed unwillingness to repeat existing titles and would rarely create a sequel without significantly evolving the game into an innovative experience. He is still considered one of the greatest minds and creators of our time. He continues to live and work in Japan. Despite being an influential figure in video games and responsible for multi-million dollar franchises, Miyamoto is said to be very humble, insisting on settling for an average income.
Awards and Honors
The first ever Inductee to the Academy of Interactive Arts and Sciences Hall of Fame [1]
A star on the Walk of Game
French Order of Arts and Literature
Featured in Time Asia's "60 Years of Asian Heroes"
GDC's Lifetime Achievement Award
Subject of an episode of Icons
Quotes
"Who knows how Mario will look like in the future. Maybe he'll wear metallic clothes!" [2]
"Videogames are bad for you? That's what they said about rock 'n' roll." [citation needed]
"A delayed game is eventually good, a bad game is bad forever." [citation needed]
"My favorite video game character is not Mario, it's Pac-Man." [3]
Trivia
Miyamoto is ambidextrous. He favors his left hand and likes to make characters that are left-handed. For example, Bowser Jr. and Link are left-handed.
Miyamoto can play both the guitar and banjo.
He starred in a Mega 64 sketch about New Super Mario Bros.
When Miyamoto was in elementary school, he wanted to be involved in puppet shows and wanted to make puppets, design sets, and write stories for puppet shows.
Miyamoto says that he would like to have a pet polterpup in the Swapnote note he sent.
References
↑ "The Academy of Interactive Arts and Sciences (AIAS), created to advance and recognize the interactive arts, today announced Shigeru Miyamoto, creator of many world famous video game characters including Mario and Donkey Kong, as the first recipient of the Academy's Hall of Fame award. Mr. Miyamoto will receive the award at the first Interactive Achievement Awards, set to take place on May 28, the first evening of the Electronic Entertainment Expo in Atlanta." —http://web.archive.org/web/19990501101058/www.nintendo.com/corp/press/051298.html (Nintendo: [Nintendo press release]: Shigeru Miyamoto Wins First Interactive Arts and Sciences Hall of Fame Award, dated 5/12/1998 (archived version)); retrieved 6/11/2010.
↑ Interview in Mario Mania guide, p. 31
↑ David Doñas Salinas Metroide, Por. (2002) Biografía Shigeru Miyamoto (Spanish), translated. Retrieved on 2008-8-22
Nintendo Staff
Designers / Programmers

Shigeru Miyamoto (Head Designer)
Character Designer:

Composers
Voice Actresses
| | |
| --- | --- |
| President and COO | |
| Sales & Marketing | |
| Marketing and Corporate Affairs | |
Related NIWA Wiki