Site Notice
Please check our Coverage page to see what deserves an article and what doesn't.
Be sure to join the discussions going on our board.
X series
Jump to navigation
Jump to search
X
エックス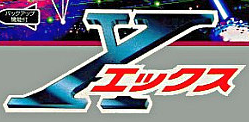 The series logo

The X series is a series of 3D tank-driving simulation/shooting games conceived by Dylan Cuthbert of Argonaut Software (Argonaut also have close links with the later released Star Fox series).
Developed as experiments for displaying 3D on the Game Boy and Super Nintendo Entertainment System also known as Eclipse and Lunar Chase and formally planned to be published by Mindscape, Dylan Cuthbert showed his work to Nintendo who were impressed and agreed to allow him to work for them.
The end result, known as simply "X" was released exclusively in Japan for the Game Boy on May 29, 1992.
Dylan Cuthbert would later become the founder of his own company Q-Games, which would develop the 2010 DSiWare sequel to X; X-Scape (released in Europe as 3D Space Tank).