Site Notice
We have a limited coverage policy. Please check our coverage page to see which articles are allowed.
Please no leaked content less than one year old, or videos of leaks.
Content copied verbatim from other websites or wikis will be removed.
Ijūin Hikaru no Houkago no Ousama
Jump to navigation
Jump to search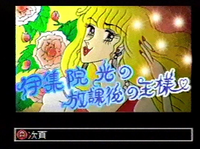 The following content contains information that may not be age appropriate, and may be offensive or upsetting. Viewer discretion is advised.
Ijūin Hikaru no Houkago no Ousama (Japanese: 伊集院光の放課後の王様) was a SoundLink Nintendo/St. GIGA radio/quiz show and Satellaview magazine directed by Motomasa Mitsumaru and performed by Hikaru Ijūin, a Japanese comedian and radio personality also known for commentating and reviewing video games. Yutao Utsumi (currently Yutaka) served as an assistant.
Until February 26, 1996 it was recorded at St. GIGA's studio at Jingūmae, Shibuya, Japan. From March 4, 1996 it was made at the studio of the Nintendo Tokyo Building at Asakusabashi, Taitō, Tokyo, Japan.
From July-August 7th it was also known as Ijūin Hikaru no Natsu Yasumi no Ousama (Japanese: 伊集院光の夏休みの王様), "Hikaru Ijūin's Summer Vacation King".
After April 1996, it was known as Ijūin Hikaru no Kai Denpa Hasshin Kichi (Japanese: 伊集院光の怪電波発信基地), "Hikaru Ijūin's Mysterious Radio Transmission Base".
The radio show covered gaming, music, people related content and had various quizzes.
Further information on the magazine is obscure, but it appears to have contained vulgar, dark-humor and sexual elements in its content, based on the screenshots and certain topics in the show such as "selling your family", " "urination experience" and "thief talk/story"[1][2]
Related articles
References
Template:Houkago no Ousama series
| | |
| --- | --- |
| | This article is a stub. You can help NintendoWiki by expanding it. |