Site Notice
We have a limited coverage policy. Please check our coverage page to see which articles are allowed.
Please no leaked content less than one year old, or videos of leaks.
Content copied verbatim from other websites or wikis will be removed.
Kung-Fu Master
Jump to navigation
Jump to search
Kung-Fu
スパルタンX
Kung-Fu Master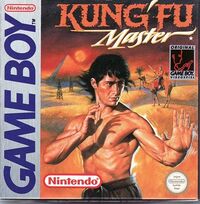 Boxart of Kung-Fu Master
N. America:
NES: October 1985
Game Boy: February 1991
Japan:
NES: June 21, 1985
Game Boy: December 11, 1990
Europe:
NES: 1987
Game Boy: 1991
Australia:
(Unknown)
S. Korea:
(Unknown)
China:
(Unknown)
Kung-Fu (NES) or Kung-Fu Master (Game Boy) is game in the Kung-Fu Master series of side-scrolling beat 'em up games, based on Jackie Chan. It is also known as Spartan X in Japan. It stars protagonist Thomas who must punch and kick enemies.
In Europe, the game was published by Nintendo.[1]
References