Site Notice
We have a limited coverage policy. Please check our coverage page to see which articles are allowed.
Please no leaked content less than one year old, or videos of leaks.
Content copied verbatim from other websites or wikis will be removed.
Time Twist: Rekishi no Katasumi de...
Jump to navigation
Jump to search
Time Twist: Rekishi no Katasumi de... - Zenpen
タイムツイスト 歴史のかたすみで…前編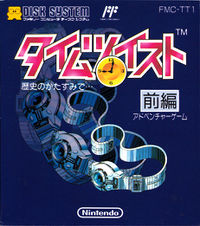 Disk 1 box art.
Time Twist: Rekishi no Katasumi de... - Kouhen
タイムツイスト 歴史のかたすみで…後編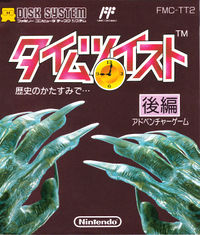 Disk 2 box art.
The following content contains information that may not be age appropriate, and may be offensive or upsetting. Viewer discretion is advised.
Time Twist: Rekishi no Katasumi de... is an adventure game developed in collaboration between Nintendo and Pax Softnica and released for the Family Computer Disk System in July of 1991. Time Twist was the final physical release for the Disk System. The game is divided into two parts across two Disk Cards, both of which were released on the same day.
Story
In the year 1995, growing uncertainty about the turn of the 20th century has led to fortune-telling TV shows becoming popular. During one such show, a young boy is told that he will meet the girl of his dreams in a museum outside the city, and is given an incantation that is said to "capture the heart of the girl of his dreams". The boy visits the museum and finds a girl, but an earthquake suddenly happens. He then recites the incantation, which instead releases the devil from a vase inside the museum. The devil takes control of the boy's body, leaving his soul inside the devil's own body. The devil goes to the house of a scientist named Dr. Simon and steals his "Time Belt" to travel back in time, the boy's soul being pulled into the past as well. The boy must now use his new abilities in order to stop the devil's plans as he travels to different locations around the world across different periods in time and return to his own body.
Gameplay
Time Twist is a text-based adventure game in which the player, controlling the soul of a young boy, must thwart the devil's plans in each time period. This is done by temporarily controlling the bodies of humans or animals in each era. The player can only leave their bodies, however, when the host is unconscious. The player must solve logic puzzles answer historical trivia questions about each setting and time period in order to progress. In each time period the player must collect a certain item which can be used to stop the devil. Each area in the game focuses on a specific historical figure (i.e. 1428 France focuses on Joan of Arc).
Technical details
| | |
| --- | --- |
| Media | Famicom Disk System Disk Card |
| Input / compatible controllers | Famicom controller |
External links