Site Notice
We have a limited coverage policy. Please check our coverage page to see which articles are allowed.
Please no leaked content less than one year old, or videos of leaks.
Content copied verbatim from other websites or wikis will be removed.
Wii Remote
Jump to navigation
Jump to search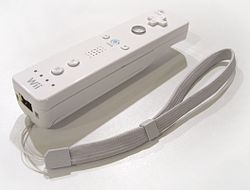 The Wii Remote, also called Wiimote, is the primary controller for the Wii. A port on the bottom can be used to connect accessories such as Nunchucks, Classic Controllers, and Wii MotionPluses. It also comes with a detachable wrist strap. Later revisions had the Wii MotionPlus built in.
Buttons
The Wii Remote has the following buttons:
Power
D-Pad (Up/Down/Left/Right)
A
B
+
-
HOME
1
2
It also has a built-in gyroscope and pointing device.
| | |
| --- | --- |
| | This article is a stub. You can help NintendoWiki by expanding it. |