Site Notice
Please check our Coverage page to see what deserves an article and what doesn't.
Please no leaked content less than one year old, or videos of leaks.
Wii
Jump to navigation
Jump to search
For the series of games starting with the word "Wii", see Wii series.
Wii
ウィー Uī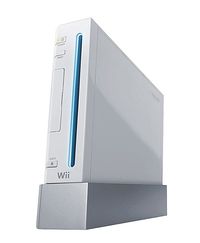 White Wii console on stand
No. of games
No. of launch titles
21
Best-selling game
Wii Sports (

82.83 million

)[1]
Last game
N/A
Launch date
2006
Discontinue date
October 21, 2013
Units sold
WW: 101.63 million

*

[3]
NA: 48.64 million[4]
JP: 12.75 million[4]
The Wii (ウィー, Uī) is a Nintendo console that was released on November 19, 2006 in the United States for $249.99. It was later released in Japan on December 2, 2006, Australia on December 7, 2006, and in Europe on December 8, 2006. Nintendo's console serves as the company's competition against Sony's PlayStation 3 and Microsoft's Xbox 360. In every country except Japan, Wii Sports is included with the Wii. For Wii Sports, in a conference, Shigeru Miyamoto explained how when they were creating the baseball game, they originally had Mario characters rather than the Mii characters, but soon decided to change it. The Wii came with 30 titles at its launch. Before the official name was announced on April 27, it was codenamed Revolution. The Wii has backwards compatibility with the Nintendo GameCube, meaning GameCube games can be inserted into the disc slot and be played on the Wii (although this is not possible with later revisions).
Unlike the Nintendo GameCube, Wii game discs are standard CD-sized. The Wii also makes use of the Nintendo Wi-Fi Connection service, making it the first Nintendo home console to feature true online play. This allows players to interact with other players around the world in games. The first game in the North American region to make use of Nintendo Wi-Fi Connection was Pokémon Battle Revolution, released on June 25, 2007.
Features
[
edit
]
Wii's controller is a strange and revolutionary one, instead of taking the dual-control-stick layout of the previous generation like its competitors, it is in a remote control form, with attachments available to work with compatible games, such as a control stick on a Nunchuk attachment, or the classic controller, which takes on a layout similar to the other consoles' main controller. The Wii Remote is wireless, and features many innovations such as motion and tilt sensing, a first for game controllers.
The Wii controller resembles a television remote. It features a D-pad, an A button, a B button, a select button, a home button, a start button, a 1 button, and a 2 button. In addition, there are a group of lights on the bottom to remind the player what player number they are, a power button, and a slot to connect the nunchuk attachment, which will have an analog control stick and two trigger buttons.
Possibly the most important feature of the controller is its ability to detect motion in three dimensions, allowing for motion-controlled gameplay.
At the E3 2006 conference, Nintendo revealed that the controller would have a built-in speaker for further sound depth. Noises made from the player's weapons would start in the controller and end up on the television screen. This is used quite often in "Twilight Princess", when Link discovers a secret or uses certain weapons.
The controller is also able to hold preferences for a player in internal memory, as well as removable SD media. Such preferences include a user's Mii characters.
There is also the Classic Controller, this resembles a SNES controller with 8 buttons excluding the Start and Select buttons (in fact, Nintendo has released a SNES Classic Controller as a gift for Japanese Platinum Club Nintendo members in 2007). It is used for games such as Super Smash Bros. Brawl and to play Virtual Console games.
There is also Wii Motion Plus which was included in Wii Sports Resort, and featured improved motion sensors, making certain gameplay much more accurate. The Wii Remote Plus was also released and included with the game Flingsmash. The Wii Remote Plus is a standard-sized Wii Remote with Wii Motion Plus built in.
Wii Menu
[
edit
]
The console features a custom GUI made up of different-- and expandable-- channels, all of which, save the Disc Channel, can be moved around to any of the 100 spaces available on the main menu. New channels can be downloaded via the Wii Shop Channel, including a browser and games from older systems playable via Virtual Console.
Wii also has the ability to send messages to and from other devices, so long as the Wii sends out the first message, an address book confirmation message, to the email address or cell phone number in question. When the recipient replies to the Wii's message, communication between the two devices will be active, and via WiiConnect24, others can leave messages for players of the console on its message board from anywhere in the world.
Backward compatibility
[
edit
]
Wii is also backwards-compatible with all GameCube games, as well as with most of GameCube's accessories, such as the controllers, memory cards, GameCube to GBA cables, and microphone. This backwards compatibility also means it is the first home console released by Nintendo to do so. However, the Wii Family Edition and Wii mini are not backwards compatible.
System specs
[
edit
]
Processor: IBM designed, codenamed "Broadway".
Graphics: ATI designed, codenamed "Hollywood".
Drive: Slot-loading drive uses a 12cm proprietary format, which is rumored to hold the same data as a dual-layered DVD. Also plays GameCube disks.
Internet: Wireless through 802.11b and 802.11g or by purchasing a cable adapter. "Nintendo Wi-Fi Connection" is the service, which only requires a wireless connection to the internet. Game downloading will also be functional, for downloading old Nintendo Entertainment System, MSX, Turbografx, C64, Super Nintendo Entertainment System, MegaDrive/Genesis or Nintendo 64 games.
Backwards Compatibility: In addition to being able to play GCN games, the Wii also has a bay with 4 GCN controller ports and 2 GCN memory card slots.
Storage: In addition to the GCN memory card slots, the Wii also sports 2 flash memory slots.
Controllers: Supports up to 4 of Nintendo's new wireless "remote" style controllers. (See below)
I/O: 1 Component digital out, 2 USB 2.0 ports, 1 power input.
Design: Thickness is about 3 DVD cases. Has been previewed in multiple colors, as has the controllers.
Wii system versions
[
edit
]
Over its lifetime the Wii has received 14 system updates. The current revision of the Wii Menu is version 4.3, released in 2010.
[5]

| Version Number | Date Released | Description |
| --- | --- | --- |
| Default | Default | Initial version of the system menu at launch. |
| 2.0 | November 19, 2006 | Added SD card support, "Country Settings", "Parental Controls" and the ability to update the system and rearrange channels on the Wii menu. |
| 2.1 | January 10, 2007 | News Channel added. |
| 2.2 | April 11, 2007 | Resolved connection issues that affected a small number of users who connected online through a specific Internet Service Provider and supplied router. |
| 3.0 | August 6, 2007 | Weather forecast and headline news is now displayed on the Forecast and News Channels respectively. Clock Display. The Wii Message Board button flashes when a message arrives among other Wii Message Board updates. The search function on Wii Shop Channel has been enhanced. |
| 3.1 | October 10, 2007 | Added USB keyboard support. Updated versions of the Internet Channel and Everybody Votes Channel. |
| 3.2 | February 25, 2008 | Improved system update. |
| 3.3 | June 17, 2008 | Enhancement to the Mii Channel. Fixing unauthorized modifications. |
| 3.4 | November 17, 2008 | Added USB keyboard compatability to Mii Channel. Enhanced parental controls. Updated Wii User Agreement. |
| 4.0 | March 25, 2009 | Added SDHC support and the ability to download titles directly to the SD(HC) card and load them directly from it. Enhanced "Data Management". Fixed unauthorized modifications. |
| 4.1 | July 16, 2009 | Fixes problem related to Wii Motion Plus and SD Card Menu. |
| 4.2 | September 28, 2009 | Fixing unauthorized modifications. |
| 4.3 | June 21, 2010 | Fixing unauthorized modifications. |
System revisions
[
edit
]
Wii Family Edition
[
edit
]
The Wii Family Edition (model no. RVL-101) is the first revised model of Wii hardware, released in North America in October 2011 and in Europe and Australia in November 2011. The Wii Family Edition was designed to sit on its side, and as such does not feature the original model's stand (even though the system still has the feet seen on the original model. The Family Edition also lacks any Nintendo GameCube inputs as well as compatibility with Nintendo GameCube games.
Wii mini
[
edit
]
The Wii mini (model no. RVL-201) is a smaller version of the Wii released in Canada on December 7, 2012, United Kingdom on March 15, 2013, Europe on March 22, 2013, and North America on November 17, 2013. Meant to be a small, a cheap model of the Wii, the system once again lacks Nintendo GameCube support, as well as the ability to output component video and S-Video and Wi-Fi support. The system also has no SD card slot and a single USB port. The design of the system has also been entirely revised, being red and black, with a top-loading disc drive like the Nintendo GameCube.
References
[
edit
]

Controllers and accessories
Add-on devices
* - Cancelled

| Standalone consoles | Arcade | Pokémon | Classics | Cancelled |
| --- | --- | --- | --- | --- |
| | | | | |