Site Notice
Please check our Coverage page to see what deserves an article and what doesn't.
Please no leaked content less than one year old, or videos of leaks.
Donkey Kong Country Returns
Jump to navigation
Jump to search
Donkey Kong Country Returns
ドンキーコング リターンズ
Donkī Kongu Ritānzu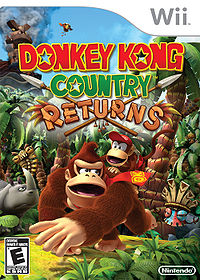 Boxart for Donkey Kong Country Returns
| | |
| --- | --- |
| N. America: | November 21, 2010 |
| Japan: | December 9, 2010 |
| Europe: | December 3, 2010 |
| Australia: | December 2, 2010 |
Donkey Kong Country Returns is a 2D platforming game and the fourth installment in the Donkey Kong Country series, developed by Retro Studios and released for the Wii in 2010. The game marks a return to the Donkey Kong Country series after the release of Donkey Kong Country 3: Dixie Kong's Double Trouble! over 14 years prior.
A follow-up to this game, Donkey Kong Country: Tropical Freeze, was later released for the Wii U in 2014.
Donkey Kong Returns for an all-new adventure!
Jump, swing, and blast your way across Donkey Kong Island in search of Donkey Kong's missing banana hoard!
Take control of Diddy Kong for two-player cooperative play!
Classic Donkey Kong Country gameplay with exciting new moves!
The volcano on Donkey Kong Island suddenly erupts, releasing a group of Tikis known as the Tiki Tak Tribe. The Tikis hypnotize the animals on Donkey Kong Island, forcing them to steal Donkey Kong's banana hoard. A Tiki tries to enslave Donkey Kong, but their hypnotic music has no effect on him. Donkey Kong sets off on a quest to reclaim his banana hoard from the Tikis and force them off Donkey Kong Island.
Gameplay
[
edit
]
Technical details
[
edit
]
Other releases
[
edit
]
Title
Box art
Platform
Release date(s)
Notes
Donkey Kong Country Returns 3D
Nintendo 3DS
NA: May 24, 2013
JP: June 13, 2013
EU: May 24, 2013
AUS: May 25, 2013
KOR: December 7, 2013
A port of the game released for the Nintendo 3DS, which includes bonus content not present in the original game. The port was developed by Monster Games.
Donkey Kong Country Returns
Wii (Nintendo Selects)
NA: March 11, 2016
EU: October 18, 2013
AUS: August 27, 2015
A re-release of the original game under the Nintendo Selects line.
Donkey Kong Country Returns
Wii U
NA: September 22, 2016
JP: January 21, 2015
PAL: January 22, 2015
A direct port of the original game released as a digital download on the Nintendo eShop for Wii U. In North America, the game was originally available a My Nintendo reward for 230 Gold Points on March 31, 2016, before the game's release on the Nintendo eShop.
Gallery
[
edit
]
External links
[
edit
]


Donkey Kong Country Returns on other NIWA Wikis:
References
[
edit
]
| | |
| --- | --- |
| | This article is a stub. You can help NintendoWiki by expanding it. |