Site Notice
We have a limited coverage policy. Please check our coverage page to see which articles are allowed.
Please no leaked content less than one year old, or videos of leaks.
Content copied verbatim from other websites or wikis will be removed.
Donkey Kong Jr. (game)
Jump to navigation
Jump to search
Donkey Kong Jr.
ドンキーコングJR.
| | |
| --- | --- |
| Developer(s): | Nintendo Research & Development 1, Iwasaki Engineering |
| Publisher(s): | Nintendo |
| Platform: | Arcade, Nintendo Entertainment System |
| Category: | |
| Players: | Single player, multiplayer |
| Predecessor: | Donkey Kong |
| Successor: | Donkey Kong 3 |
N. America:
1982 (Arcade)
June 1986 (NES)
Japan:
1982 (Arcade)
July 15, 1983 (NES)
Europe:
1982 (Arcade)
June 15, 1987 (NES)
This article is about the game, for the character see the Super Mario Wiki article about Donkey Kong Jr.
Donkey Kong Jr. is a game in the Donkey Kong series, originally released in 1982 as an arcade cabinet and later released as a Nintendo Entertainment System title.
Gameplay
A game where the player as Donkey Kong Jr. must rescue Donkey Kong from inside of a cage, against Mario. This is a role reversal of the previous game (Donkey Kong) in which Mario was the hero and Donkey Kong was the villain. Action involves platforming elements such as climbing vines and avoiding enemies, falling into the ocean.
Ports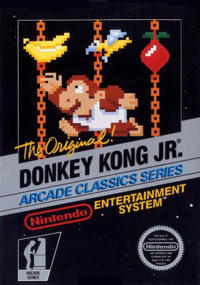 This game has been bundled up in Donkey Kong + Donkey Kong Jr. + Mario Bros. for arcades.
References