Site Notice
We have a limited coverage policy. Please check our coverage page to see which articles are allowed.
Please no leaked content less than one year old, or videos of leaks.
Content copied verbatim from other websites or wikis will be removed.
Donkey Kong (game)
Jump to navigation
Jump to search
Donkey Kong
ドンキーコング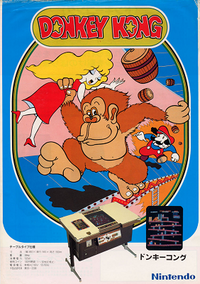 Arcade flyer
| | |
| --- | --- |
| N. America: | July 1981 (arcade) |
| Japan: | July 1981 (arcade) |
Donkey Kong is the first Donkey Kong game and the first Mario game to be released. It marked the first appearance of Mario (known as Jumpman in the game) and the original Donkey Kong. Originally released as an arcade game in 1981, Donkey Kong was later ported to the Nintendo Entertainment System, as well as many other consoles.
Blurb
"Can you save Mario's girl from the clutches of Donkey Kong?
Donkey Kong has kidnapped Mario's girlfriend Pauline and taken her to the top of a construction site! It's up to you to help Mario save Pauline before time runs out. But it won't be easy. Donkey Kong will do everything in his power to stop you. He'll throw barrel bombs, flaming fireballs and anything else he can get his hands on. So if you're looking for action, don't monkey around. Get the original DONKEY KONG from the Nintendo Arcade Classics Series."
Gameplay
In the original arcade game, Mario and Pauline are in love. Donkey Kong then captures her and carries her to the top of a construction site. Mario must then climb the building using ladders, avoiding enemies and traps along the way. Pauline's lost items, including her parasol and purse, can be acquired for bonus points. When Mario reaches the top of a level, DK carries Pauline further up. When Mario reaches the top of the final level, Donkey Kong falls to his death, allowing Mario to rescue Pauline.
Related Games
Remakes
This game has been remade as:
Ports
This game has been ported to:
This game has been bundled up in:
Trivia
When Donkey Kong climbs the building, the theme to the classic cop show Dragnet is played. This also plays in the NES version when start is pressed.
References
External links
| | |
| --- | --- |
| | This article is a stub. You can help NintendoWiki by expanding it. |

| | |
| --- | --- |
| Series 1 (2004) | |
| Series 2 (2004) | |
| Series 3 (2004) | |
| | |
| --- | --- |
| Series 1 (2004) | |
| Series 2 (2004 in North America, 2005 in Europe and Australia) | |