Site Notice
Please check our Coverage page to see what deserves an article and what doesn't.
Please no leaked content less than one year old, or videos of leaks.
Star Fox 64
Jump to navigation
Jump to search
Star Fox 64
スターフォックス64
Sutā Fokkusu Rokujūyon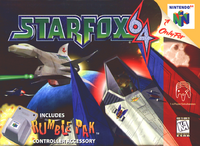 North American boxart
N. America:
July 1, 1997 (N64)
April 2, 2007 (VC)
Japan:
April 27, 1997 (N64)
April 17, 2007 (VC)
Europe:
October 20, 1997 (N64)
April 20, 2007 (VC)
Australia:
October 20, 1997 (N64)
April 20, 2007 (VC)
S. Korea:
June 25, 2008 (VC)
Star Fox 64, known in Europe and Australia as Lylat Wars, is a video game released for the Nintendo 64 in 1997. A reboot of the original Star Fox, the game was developed after Star Fox 2 was shelved to focus on releasing a Star Fox game for the new console, though it would draw several elements from that title. It was the first game to be compatible with the Rumble Pak, with which the game was bundled at release.
In 2011, a remake of this game would be released for Nintendo 3DS, Star Fox 64 3D.
The Lylat system has been invaded! Join Fox McCloud and his Star Fox team as they fight to save the galaxy from the clutches of the evil Andross. Travel to many different 3-D worlds. Battle the enemy in the air and on the ground and listen in as Fox McCloud interacts with a cast of characters.
See how it feels to feel what you see! The N64 Rumble Pack controller accessory instantly transmits all the bumps and blasts during the action. It's a new jolt to your game play experience!
N64 Rumble Pak controller accessory and batteries included!
Four players compete simultaneous in Vs. mode!
Game Pak memory saves top 10 scores!
Outstanding cinema scenes tell the Star Fox saga!
Many years ago the Cornerian scientist Andross was banished to the planet Venom due to creating biological weapons that nearly destroyed the planet. After detecting strange activity, General Pepper hires Star Fox team (consisting of James McCloud, Peppy Hare and Pigma Dengar) to investigate. Pigma betrays the team and his former teammates are captured, but Peppy escapes and tells James' son Fox about his father's fate.
Years later Andross' army attacks the Lylat system. General Pepper hires the new Star Fox team, now led by Fox McCloud, to stop the attacks by his army, including the rival Star Wolf team, and travel to Andross's home base on Venom to take him out.
Gameplay
[
edit
]
Star Fox 64 has similar gameplay elements to the SNES original, but makes use of the Nintendo 64's superior hardware to include several new gameplay features in addition to full 3D graphics. While much of the game is still a rail shooter, known as "Corridor Mode", at certain points the game switches to "All-Range Mode", in which players can fly freely around the area. Players are able to perform a number of new actions as well, such as barrel rolls, loops, boosting, and, in All-Range Mode, "U-Turns". At other times, players may also take control of the Landmaster, a tank which is still able to shoot, barrel roll, and boost, but can also hover. The game also features a power-up system; players can collect items such as laser upgrades, a health bar extension, extra health, extra lives, and Smart Bombs, all of which carry over to later stages.
Players progress through the game in a linear fashion, going from stage to stage until reaching the planet Venom for the final battle with Andross. However, depending on how the player clears the stage, alternate routes may be available, allowing the player to take a different path through Lylat and play through different stages to reach Andross.
The game also features a multiplayer VS. mode, with three options for play: a timed mode in which players must destroy each other in the time limit, a point match mode in which players must shoot each other down a certain number of times, and a battle royal mode in which players must shoot each other down to be the last standing. At first players can only use the Arwing, but can unlock the ability to play using the Landmaster or on foot by collecting medals in the story mode.
Technical details
[
edit
]
Other releases
[
edit
]
Gallery
[
edit
]
External links
[
edit
]
| | |
| --- | --- |
| | This article is a stub. You can help NintendoWiki by expanding it. |