Site Notice
Please check our Coverage page to see what deserves an article and what doesn't.
Please no leaked content less than one year old, or videos of leaks.
Super Mario World
Jump to navigation
Jump to search
SMW redirects here. For information about Super Mario Wiki, see here.
Super Mario World
スーパーマリオワールド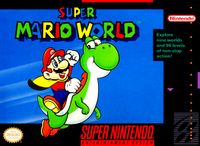 Cover artwork of Super Mario World
N. America:
August 13, 1991 (SNES)
February 5, 2007 (VC)
Japan:
November 21, 1990 (SNES)
December 2, 2006 (VC)
Europe:
April 11, 1992 (SNES)
February 9, 2007 (VC)
Australia:
July 1, 1992 (SNES)
February 9, 2007 (VC)
S. Korea:
April 26, 2008 (VC)
Super Mario World is a 2D platformer released for the Super Nintendo Entertainment System. The playable characters are Mario and Luigi.
Mario is off on his biggest adventure ever, and this time he's brought along a friend. Yoshi teams up with Mario to fight Bowser, who has kidnapped Princess Toadstool once again. The player must guide Mario and Yoshi through nine peril-filled worlds to the final showdown in Bowser's Castle.
During a vacation in Dinosaur Land, Princess Toadstool gets kidnapped, and a spell is cast on the inhabitants of the island. When they stumble upon Yoshi, a young dinosaur, Mario and Luigi learn that Bowser is responsible for the terrible misdeeds. Then Bowser kidnaps seven Yoshis by trapping them in magical eggs that Bowser has hidden throughout seven castles.
Gameplay
[
edit
]
Many hidden paths aid Mario in making his way to Bowser's castle, completing 74 areas, and finding all 96 exits. Discover items, including a Feather that gives Mario a cape that allows him to fly or a Fire Flower that shoots fireballs, in layers upon layers of 2-D scrolling landscapes. Mario can even ride Yoshi and swallow his enemies.
Development
[
edit
]
According to director Takashi Tezuka, Super Mario World began development in 1988 and was completed in under two years, having a shorter development time than Super Mario Bros. 3 before it.[1]
Other releases
[
edit
]
Super Mario World was included in an updated version of Super Mario All-Stars called Super Mario All-Stars + Super Mario World for the Super Nintendo Entertainment System. The main difference is that Luigi's sprites were modified from the original version to appear slimmer than Mario. There were also four save files, while the original only had three.
A remake of Super Mario World titled Super Mario World: Super Mario Advance 2 was released for the Game Boy Advance which featured many changes from the original game, such as a new intro and slight changes in level design, among others.
In 2006, Super Mario World was released on the Wii's Virtual Console service in Japan, and then made available in most other regions the following year.
External links
[
edit
]
References
[
edit
]