Site Notice
We have a limited coverage policy. Please check our coverage page to see which articles are allowed.
Please no leaked content less than one year old, or videos of leaks.
Content copied verbatim from other websites or wikis will be removed.
Mario Kart DS
Jump to navigation
Jump to search
Mario Kart DS
マリオカートDS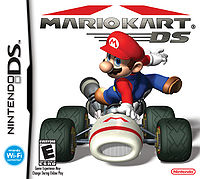 Cover artwork of Mario Kart DS
| | |
| --- | --- |
| N. America: | November 14, 2005 |
| Japan: | December 8, 2005 |
| Europe: | November 25, 2005 |
| Australia: | November 17, 2005 |
| S. Korea: | April 5, 2007 |
Mario Kart DS is the fifth main installment in the Mario Kart series, released in 2005 for the Nintendo DS. It is the first game in the series to use the Nintendo Wi-Fi Connection. Mario Kart DS is the third best selling game for the Nintendo DS, selling 23.56 million copies worldwide.
Blurb
Box
"The ultimate Mario Kart race is on!
With three ways to play, Mario Kart has never been better! Win cups solo-style, battle wireless buddies, or take on pals anywhere in the world over the Nintendo Wi-Fi Connection!
Total shell-tossing mayhem! Frantic speed, crazy new items, multiple karts per character, and an all-new mission mode make this a Mario Kart fan's dream!
Over 30 courses! Tour brand-new tracks and battle arenas, as well as favorite courses from every Mario Kart game in the series!
Race your friends over the Internet with up to 4 karts at once or have 8-player free-for-alls with one Game Card using local wireless!"
Nintendo Website
"Frantic speed and item-tossing mayhem await on these racetracks!
Race along with Mario and his friends in five single-player modes and over 30 courses. Knock out the competition with your driving skills as you rocket-start the race, use drifting and turbos at critical points, and deploy crazy items to gain an advantage.
Get ready for total shell-tossing mayhem! Choose one of 12 Nintendo characters as you race through challenging tracks that become even more so with deployable items at your disposal. Enlist in the Grand Prix for the trophy prize in eight different cups. Start a Time Trial, and try to best your fastest time with your own ghost. Play against a computer-controller kart in VS mode for a quick race. Try out some fun kart minigames like Balloon Battle and Shine Runners in Battle mode. Or try clearing some Missions to practice your technique in becoming the ultimate Mario Kart racer!
Virtual Console
This classic game is part of the Virtual Console service, which brings you great games created for consoles such as NES™, Super NES™ and Game Boy™ Advance. We hope you'll enjoy the new features (including off-TV play) that have been added to this title. See more Virtual Console games for Wii U."
Gameplay
Basic gameplay is retained from the previous games in the series, in that racers race on various tracks while using items to assist them in placing first. The game features eight cups with four tracks each. Single-player modes consist of a mode where the player races computer-controlled opponents, a mode where the player battles computer-controlled opponents, a mode where the player attempts to make the best time in which a ghost of their results can be saved, and a mode where the player takes on various missions with differing criteria for completion. Using the dual-screen, players can see the order of racers and a map. Fake Item Boxes do not appear on the bottom screen's map, revealing their falsity. For multi-player modes, players can race or battle locally with up to eight players using Download Play or Multi-Card Play, or race online with up to four players using the Nintendo Wi-Fi Connection. The aforementioned battle mode is split into two modes: Balloon Battle, where competitors use items in an attempt to pop the most of their opponents' balloons, and Shine Runners, where competitors try to collect the most shines, using items to steal shines from their rivals.
Technical Details
Media

Nintendo DS Game Card
Digital download (Wii U)

Supported features

Local Play (2-8 players, Online Play (2-4 players)

Input / compatible controllers

DS: Nintendo DS
Wii U: Wii U GamePad
Other Releases
Title
Cover art
Platform
Release date(s)
Notes
Mario Kart DS
Wii U (Virtual Console)
US/EU/AUS: 2015
JPN:2016
A direct port of the game released as a digital download on the Wii U Nintendo eShop, with added Virtual Console emulator features.



External links