Site Notice
Please check our Coverage page to see what deserves an article and what doesn't.
Please no leaked content less than one year old, or videos of leaks.
Super Mario Odyssey
Jump to navigation
Jump to search
Super Mario Odyssey
スーパーマリオ オデッセイ
Sūpā Mario Odessei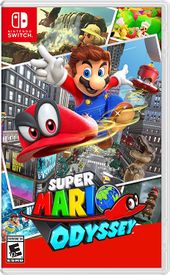 North American box art
| | |
| --- | --- |
| Worldwide: | October 27, 2017[1] |
| S. Korea: | December 1, 2017[2] |
Super Mario Odyssey is a 3D platforming game and the sixteenth entry in the core Super Mario series. The game was released in October 2017 for the Nintendo Switch.[3]
Box
---
Mario's on a Globe-Trotting Adventure!

Control enemies with a toss of your hat!

Assist Mode
With guiding arrows and other aids, anyone can play

2P Mode
Share Joy-Con to help Mario out.
Nintendo website
---
New Evolution of Mario Sandbox-Style Gameplay

Mario embarks on a new journey through unknown worlds, running and jumping through huge 3D worlds in the first sandbox-style Mario game since Super Mario 64 and Super Mario Sunshine. Set sail between expansive worlds aboard an airship, and perform all-new actions, such as throwing Mario's cap.
Nintendo eShop
---
Mario jumps out of the Mushroom Kingdom and embarks on a journey in Super Mario Odyssey, only on Nintendo Switch!

Join Mario on a massive, globe-trotting 3D adventure and use his incredible new abilities to collect Moons so you can power up your airship, the Odyssey, and rescue Princess Peach from Bowser's wedding plans!

This sandbox-style 3D Mario adventure - the first since 1996's beloved Super Mario 64 and 2002's Nintendo GameCube classic Super Mario Sunshine - is packed with secrets and surprises, and with Mario's new moves like cap throw, cap jump, and capture, you'll have fun and exciting gameplay experiences unlike anything you've enjoyed in a Mario game before. Get ready to be whisked away to strange and amazing places far from the Mushroom Kingdom!
The game begins with a battle between Mario and Bowser on an airship in flight. Using his hat, Bowser is able to easily defeat Mario and send him flying off the airship, then takes off to prepare for his wedding with Peach. Mario lands in the Cap Kingdom, where he meets a ghostly hat-like character named Cappy, who explains that Bowser had previously invaded the Cap Kingdom and kidnapped his sister Tiara. After defeating one of the Broodals, a group of rabbits helping to plan Bowser's wedding, in the Cap Kingdom and recovering an airship in the Cascade Kingdom, Mario and Cappy set off on a journey to stop Bowser's wedding.
Gameplay
[
edit
]
Super Mario Odyssey returns to the "sandbox" style gameplay of Super Mario 64 and Super Mario Sunshine[3], in which Mario traverses large open-ended areas to find Power Moons. The game features Mario traveling to different locations across a new world by airship.[3]
Mario gains a new ally known as Cappy, who dwells inside of his hat. With Cappy, Mario can throw his hat to attack enemies, and can also "capture" certain enemies and objects, possessing them and allowing him to use abilities specific to the captured target.[1] Super Mario Odyssey also features a two-player co-op mode that allows a second player to control Cappy.[4]
Development
[
edit
]
According to Shigeru Miyamoto, the decision to use the original 3D gameplay style for Super Mario Odyssey was out of a desire to create Mario a game for the "core" audience on the Nintendo Switch, as games like Super Mario Maker and Super Mario Run were already developed for more casual players.[5]
Reception
[
edit
]
Within one month after the Nintendo Switch Presentation 2017, the first Super Mario Odyssey trailer became the most-viewed gameplay trailer on Nintendo's YouTube channel, with over 11.2 million views.[7]
Famitsu rated Super Mario Odyssey an overall near-perfect score of 39/40 (10/10/9/10).[6]
Technical details
[
edit
]
Updates
[
edit
]
| Version no. | Release date(s) | Description |
| --- | --- | --- |
| 1.0.1 | October 27, 2017 | Game fixes.[8] |
| 1.1.0 | November 30, 2017 | Adds support for Korean language. |
| 1.2.0 | February 21, 2018 | Adds the Balloon World minigame, adds new outfits, adds new filters for Snapshot Mode, adjustments to the Jump-Rope Challenge minigame, resets World Rankings and Friend Rankings for Jump-Rope Challenge, gameplay fixes. |
| 1.3.0 | April 25, 2019 | Adds support for the Nintendo Labo VR Goggles, gameplay fixes. |
Gallery
[
edit
]
External links
[
edit
]


Super Mario Odyssey on other NIWA Wikis:
References
[
edit
]