Site Notice
We have a limited coverage policy. Please check our coverage page to see which articles are allowed.
Please no leaked content less than one year old, or videos of leaks.
Content copied verbatim from other websites or wikis will be removed.
Mario Party
Jump to navigation
Jump to search
Mario Party
マリオパーティ
Mario Pāti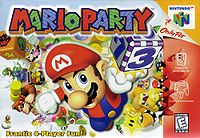 Cover artwork of Mario Party
| | |
| --- | --- |
| N. America: | February 8, 1999 |
| Japan: | December 18, 1998 |
| Europe: | March 9, 1999 |
| Australia: | March 9, 1999 |
Mario Party is a Mario game that was released on the Nintendo 64. It was released on December 18, 1998 in Japan, and February 8, 1999 in North America. It is the first game in the Mario Party series of games.
Blurb
It's not just a board game... ...it's an Adventure!
Tensions mount for Mario and pals as each declares himself to be the one true Super Star of Marioland. Face your friends and family in a contest of strength, wits and agility as you explore 6 thrilling Adventure Boards. Reveal new levels of gaming excitement as you customize your boards with speed blocks, warp blocks and other specialty items. Jam-packed with all the electricity of an entire arcade, the action comes alive for up to 4 players. So grab your friends and get ready for a wild ride because this party never ends!
Story
Mario and his friends have gotten together and are having fun when they start to argue over which of them is the biggest "Super star". Toad suggests that they go to Mushroom Village to find out who is the Super Star. They all take a Warp Pipe there to go on adventures and find out who really is the best.
Gameplay
Mario Party is a board game in which players take turns rolling dice to move toward the star, trying to collect as many as possible before the end of the game. On the game board are various types of spaces, each with their own effects, both positive and negative. After each player takes their turn, a minigame is played, after which the winner earns ten coins. There are over fifty minigames total, with different types of minigames to play. While the player must head to Toad's space to get a star, Bowser also appears on every board, and will cause a negative effect, either to the one player or to all players. At the end of the game, the player with the highest star count (and, in the case of a tie, coin count) will win the game.
Other modes include the Mini-Game House, in which players can play various minigame-related modes; the Mushroom Shop, in which players can purchase extra items, board effects, and options; the Mushroom Bank, which lets players store their coins in one of various ways; and the Option House, which lets players customize the game to their liking and see various options.
Technical details
| | |
| --- | --- |
| Media | Nintendo 64 Game Pak |
| Supported features | |
| Input / compatible controllers | |
Trivia
When playing certain minigames that require excessive spinning of the control stick, many players would use the palms of their hands to spin the stick faster than they could with their thumbs or fingers (the recommended course of play). This combined with the build of the Nintendo 64 controller's Control Stick led to many players developing blisters and other injuries on their hands. In 2000, after several legal complaints were filed, Nintendo of America agreed to commit $80 million to provide protective gloves (up to four per household) to injured players[1],as well as players who had proof of purchase of the game to prevent future injury.
Nintendo of America sent a sarcastic certificate of appreciation (signed by at the time chairman Howard Lincoln and founder and president Minoru Arakawa) to video game publication Game Informer in response to their negative reviews of both this game and Mario Party 2.[2]
External links
References