Site Notice
We have a limited coverage policy. Please check our coverage page to see which articles are allowed.
Please no leaked content less than one year old, or videos of leaks.
Content copied verbatim from other websites or wikis will be removed.
Golf (NES, Game Boy)
Jump to navigation
Jump to search
Golf (NES)
ゴルフ
Golf (Game Boy)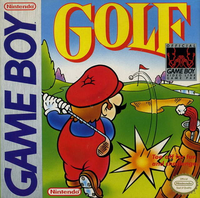 Boxart of Golf (Game Boy)
N. America:
October 1985 (NES)
February 1990 (Game Boy)
Japan:
May 1, 1984 (NES)
November 28, 1989 (Game Boy)
Europe:
November 15, 1986 (NES)
1990 (Game Boy)
Australia:
October 10, 2013 (Virtual Console) (NES)
1990 (Game Boy)
Golf is a golf game for Nintendo Entertainment System and Game Boy, and is one of the games promoted as part of the Sports series.
The main character in this game and on the box art according to Captain Rainbow is "Ossan", which was an early code name for Mario.
Mario (according to supplemental material) also appears in this game as the main character, and on the North American and European Game Boy box art.
Release data
Original releases (1986, 1990)
Wii U Virtual Console (2013)
Prior to the Nintendo Switch 4.0.0 system update (October 18, 2017), a Nintendo Entertainment System emulator containing the NES version of Golf internally known as "Flog" was secretly released as an Easter egg. It can only be run if the Nintendo Switch's month and day is July 11th (the day Satoru Iwata; former president of Nintendo and a programmer of this game passed away) and the player performs Iwata's Nintendo Direct gesture. If the Nintendo Switch has previously connected to the Internet or updated past 1.0.0, the player must also wait for the actual day; setting the date manually will no longer work. Flog is no longer accessible on firmware higher than version 4.0.0.[1]
See also
References
| | |
| --- | --- |
| | This article is a stub. You can help NintendoWiki by expanding it. |