Site Notice
Please check our Coverage page to see what deserves an article and what doesn't.
Please welcome our first Editor-in-Chief, Toa 95! Congratulations!
Please no leaked content less than one year old, or videos of leaks.
Satoru Iwata
Jump to navigation
Jump to search
"On my business card, I am a corporate president. In my mind, I am a game developer. But in my heart, I am a gamer."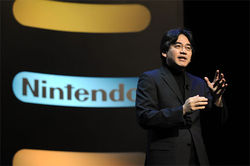 Satoru Iwata (岩田 聡, December 6, 1959 – July 11, 2015) was the fourth President and CEO of Nintendo, promoted in 2002 by the previous President, Hiroshi Yamauchi, before his retirement the same year[1], making Iwata the first president to not be related to Yamauchi's family. Iwata was known for his contributions to the Nintendo subsidiary, HAL Laboratory, Inc., and after being made president was attributed to the success of the Nintendo GameCube, Wii, Nintendo DS, and the latter console's launch title, Brain Age.[1][2][3]
Biography
[
edit
]
Iwata was born on December 6, 1959, in Sapporo, the son of a politician. Iwata displayed an interest in computers and programming during his early life; during his high school years, Iwata would program games for his classmates to play on a programmable calculator. In 1978, Iwata was admitted into the Tokyo Institute of Technology, majoring in computer science, and would graduate in 1982.
Iwata began his career while in college as a freelance programmer and one of the original members of HAL Laboratory, and was employed full-time after he graduated, becoming a software coordinator almost one year after[2]. While at HAL, he worked on the concept and design for the EarthBound and Kirby series of games, and eventually was promoted to president of the company in 1993 after making a deal with Hiroshi Yamauchi[2]. His work at HAL carried over to his career at Nintendo as he was transferred to their main office, contributing towards titles such as Super Mario Sunshine, Star Fox Adventures, Metroid Prime, Eternal Darkness: Sanity's Requiem, Animal Crossing and The Legend of Zelda: The Wind Waker.[1] Finally, in May of 2002, Hiroshi Yamauchi promoted Iwata to president as his successor, and in 2013 Iwata succeeded Tatsumi Kimishima as CEO of Nintendo of America[4]. Later on, Iwata would become the face of Iwata Asks, a series of developer interviews, and Nintendo Direct.
In 2014, Nintendo announced that Iwata did not attend E3 2014 due to a recent surgery to remove a tumor in his bile duct.[5] Regardless, on July 11, 2015, Iwata passed away from a bile duct growth at age 55.[6] His role was overseen by Shigeru Miyamoto and Genyo Takeda until September 16, 2015, when Tatsumi Kimishima was appointed as Iwata's successor.[7]
Works published by Nintendo
[
edit
]
Note that during his tenure as a president of Nintendo, Satoru Iwata was automatically credited as "Executive Producer" in any Nintendo-published games since his promotion. As such, this list only encompasses any games released before his tenure.
During his tenure, Iwata made cameos in a number of Nintendo games, but the most notable appearances were in WarioWare, Inc.: Mega Microgame$! where he appeared on Wario's TV and in WarioWare: Smooth Moves, where he (under the name "Shop Manager Iwata") was the owner of a video game store and sold 18-Volt a Game & Watch for 9-Volt.
During the credits sequence for Star Fox Zero is the message, "This game is dedicated to our wingman who fell in battle."
External links
[
edit
]
References
[
edit
]

Presidents
Managers, etc.
Internal
Subsidiaries

NNSD: Yusuke Beppu
Monolith Soft: Hirohide Sugiura, Tetsuya Takahashi
1-Up Studio: Gen Kadoi
ND Cube: Hidetoshi Endo
Retro: Michael Kelbaugh
NERD: Alexandre Delattre