Site Notice
We have a limited coverage policy. Please check our coverage page to see which articles are allowed.
Please no leaked content less than one year old, or videos of leaks.
Content copied verbatim from other websites or wikis will be removed.
Satoru Iwata
Jump to navigation
Jump to search
"On my business card, I am a corporate president. In my mind, I am a game developer. But in my heart, I am a gamer."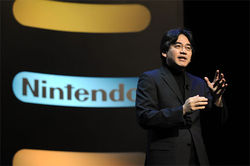 Satoru Iwata (岩田 聡, December 6, 1959 – July 11, 2015) was the fourth President and CEO of Nintendo, promoted in 2002 by the previous President, Hiroshi Yamauchi, before his retirement the same year[1], making Iwata the first president to not be related to Yamauchi's family. Iwata was known for his contributions to the Nintendo subsidiary, HAL Laboratory, Inc., and after being made president was attributed to the success of the Nintendo GameCube, Wii, Nintendo DS, and the latter console's launch title, Brain Age.[1][2][3] He was succeeded by Tatsumi Kimishima following a Nintendo board meeting on September 14, 2015 two months after Iwata passed away.
Biography/various works in detail
Background before Nintendo
Satoru Iwata was known for being hard-working, as well as studious, and displayed leadership skills in middle and high school; similarly his father was in a political position of power as a prefectural official.[4][5]
During the earlier history of video games, Satoru Iwata became fascinated in the medium; aspiring to work to create them himself. During Sundays at the Sapporo subway, he would play a simple numerical game called Game 31 at a pay-per-hour computer. In 1976, Satoru Iwata worked as a dishwasher part-time to save up money to purchase a HP-65 (the first programmable calculator), so he began making his own personal projects such as his first creation; a baseball game. When his friends enjoyed it, it made him feel proud and he realised his future, enrolling at the Tokyo Institute of Technology to study computer science (as there were no specific courses for video game design and programming).
At this point, the arcade game Space Invaders became highly popular, and Satoru Iwata was also a big fan. Iwata used his graduation gift money to purchase a Commodore PET 2001 (the first in a kind of all-in-one computers), meaning he could make his own invader game without a programmable calculator. He would also learn to study through disassembling the hardware of his computer. His dorm room with friends was known as "Iwata's Arcade".
At the Commodore Tokyo offices, he became friends with engineer Yash Terakura, as Terakura observed Iwata visiting his office almost every day after school. Together, they assisted in sorting books and floppy disks and making test programs. Iwata was eager to learn news about Commodore Tokyo's projects and technical information that wasn't available to the public.
Satoru Iwata's first commercial game was known as Car Race for the Commodore PET User's Club. He also helped Terakura in developing their Commodore Color PET prototype. While hanging around a local Seibu department store, he mixed with various computer enthusiasts learning about the different programs they created on cassettes; so they exchanged information and offered advice. One of the friends he met here wanted help in forming the company HAL Laboratory, and Iwata agreed to join part-time (as he was still enrolled in school). He became a programmer, engineer and marketer for the company and enjoyed working at HAL; then a company of just five people in a Akihabara one-bedroom apartment. He also spent other areas of his time at the company ordering a lot of take-away food and cleaning. His early work at HAL included various peripherals and software for the MSX and Commodore VIC-20, such as Star Battle; an invader game as he dreamed of earlier in his life, and a clone of Namco's Galaxian.
In 1982, Iwata completed his computer science degree, so adjusted to a full-time position at HAL Laboratory rather than part-time. However, a tension grew in the family as his father Hiroshi Iwata wasn't happy with Satoru's decision to join a company as small as HAL, and stopped speaking with him for about half a year.
About half a year after joining HAL full time, Nintendo would soon release the Family Computer (Famicom). Iwata found it fascinating as it was powerful, designed to play video games, and at a relatively low price of 15,000 yen at the time (much cheaper compared to past computers). This was partly helped by Nintendo's use of a modified version of the popular 6502 processor CPU (the same processor Iwata used on his Commodore PET 2001).
Nintendo onwards
Earlier career
After learning about the Famicom, Satoru Iwata, HAL Laboratory reached out to Nintendo and they were happy to provide work for them; and reportedly he seemed more familiar with the Famicom than Nintendo's own programmers.
Circa the cancelled Atari Famicom deal for North America, in which Nintendo would create the hardware and software and Atari would sell and distribute it. On the request of Atari for Nintendo to create four of their games for the Famicom, Satoru Iwata programmed code for a port of the game Joust (a game by Williams Electronics) circa 1983 (finished in two months under a deadline of three months), though the Atari Famicom deal fell apart, and in the end Nintendo of America (founded in 1980 with Minoru Arakawa as the president) released the localised version; the Nintendo Entertainment System solely by themselves. The actual Joust Famicom/Nintendo Entertainment System game was released in 1987 (1988 for the North American version), published by HAL Laboratory/HAL America and copyright is also held by Atari.
In 2016, it was reported by Wired that a Joust game housed on a 1984 EPROM chip was sold on Yahoo Auctions, leading some to believe it originated during the Atari Famicom deal.[6]
Satoru Iwata was regarded as being a highly skilled programmer, and for his efficiency. His next assignment was to fix Pinball (NES), which had fallen behind; to which he succeeded and securing a release of February 2, 1984. Two other projects Iwata assisted with included Golf (NES) and F-1 Race, and he earned the trust of then president Hiroshi Yamauchi. When Yamauchi invested money into HAL Laboratory; they became an official second-party developer, and Iwata was promoted to a development manager and HAL Laboratory board member, and was nicknamed "the super programmer".
In particular, during the development of Balloon Fight he surprised Nintendo with the programming (which runs smoother than VS. Balloon Fight) and with a way to much more accurately calculate the player's screen position. Nintendo later borrowed this for the floating mechanics for swimming in Super Mario Bros..
In 1987, during the development of Famicom Grand Prix II: 3D Hot Rally he wanted a way to make the game stand out. At this point in time, he met Nintendo's Shigeru Miyamoto, who he considered his rival; and admired the way everything he released tended to become successful. Shigeru Miyamoto worked with Satoru Iwata to remake the courses, to make the game more fun, make Mario the main character, and make it compatible with the Famicom 3D System; hence Satoru Iwata learned lessons about the importance of imagination, content, design, and innovation.
Soon after HAL Laboratory was suffering from a low number of hit games and Japanese economy was struggling, and the company had borrowed a large amount of money to build their new headquarters, putting them in a huge debt of 1.5 billion yen. Hiroshi Yamauchi promised Nintendo would help pay back their debt provided that Iwata was made president of HAL Laboratory, and was hesitant but decided it was the most reasonable thing to do. He then started to pay back 250 million yen a year for six years and succeeded.
Personality and leadership
Satoru Iwata was also known within Nintendo for being self-sacrifical (cutting his own salary rather than discharing employees) and having great management skills. After becoming president of HAL Laboratory and later president of Nintendo in May 2002, Hiroshi Yamauchi promoted Iwata to president as his successor (the first person to take that role outside of the Yamauchi family), and in 2013 Iwata succeeded Tatsumi Kimishima as CEO of Nintendo of America[7]. Later on, Iwata would become the face of Iwata Asks, a series of developer interviews, and Nintendo Direct.
Another subject that made Shigesato Itoi feel deep respect for Satoru Iwata was how in 2003 Ape, Inc. were concerned about the slow development of EarthBound (MOTHER 2 in Japan), with Itoi worrying the game might never be finished. After analysing the code, Satoru Iwata was concerned it would take a long time (about two years in his opinion) to work with, but if it was started again from scratch it might take about six months. Therefore, Iwata created tools at HAL Laboratory to assist the staff at Ape, Inc. and move development along faster, and the game was completed in less than a year. Itoi then gave him the affectionate name of "superman", and admired him as a sworn friend. Following Iwata's passing, on July 23, 2019 Shigesato Itoi's company Hobonichi published a book called Words of Wisdom From Nintendo's Legendary CEO: Ask Iwata in tribute to him and collating many interviews and quotes from the president.
He was also of great assistance to Game Freak. In 1995, Creatures, Inc. was spun-off from Ape in 1995 by Tsunekazu Ishihara with Satoru Iwata's assistance. Creatures, Inc. was founded to assist with the Pokémon project and aid it off the ground, as well as its promotion prior to The Pokémon Company (1998), and also as a side-project to help young developers like Satoshi Tajiri.[8][9]
Iwata assisted with Pokémon Red and Green Versions' Western localisation (Pokémon Red and Blue Versions) so Game Freak had more time to focus on Pokémon 2 (Pokémon Gold and Silver Versions); while also creating graphic compression tools to aid with the development of Pokémon Gold and Silver Versions.
During the development of Pokémon Stadium, Iwata was able to port over the original battle system by studying the original source code of the Game Boy games to the surprise of Game Freak's designer Shigeki Morimoto. In the process, various glitches were also fixed.
Satoru Iwata had various personal philosophies such as the core of a game is that it should simply be fun, or that there was a growing inaccessibility gap between gamers and general people. As such, initiatives such as the Touch! Generations were important marketing and designed around the Nintendo DS and Wii, following the Nintendo GameCube which according to data sold relatively poorly compared to PlayStation 2 (22 million as opposed to the PlayStation 2's 155 million sales).[10][11]
Iwata also proposed the idea of looking for projects nobody else is working on as the Blue Ocean Strategy.[12]
Illness and passing
In 2014, Nintendo announced that Iwata did not attend E3 2014 due to a recent surgery to remove a tumor in his bile duct.[13] He also updated his Mii, illustrating the fact that he had become slimmer.[14]
Regardless, on July 11, 2015, Iwata passed away from a bile duct growth at age 55.[15] His role was overseen by Shigeru Miyamoto and Genyo Takeda until September 16, 2015, when Tatsumi Kimishima was appointed as Iwata's successor.[16]
Legacy after death
After his passing, many gaming fans both in and outside the industry paid respect to Satoru Iwata in public announcements and social media. After a rainbow passed over Kyoto, Japan; it was affectionally referred to as the "Rainbow Road" to heaven for him (a reference to the stage in the Mario Kart series).[17][18]
On July 16, and July 17 Buddhist funerals were held for him in Kyoto, and around 4100 people attended to pay respects, in spite of the stormy weather from Typhoon Nangka. Among those people included Reggie Fils-Aime, Shigeru Miyamoto, Genyo Takeda, Masahiro Sakurai.[19][20][21]
Following this his ashes were cremated in an undisclosed location at Kyoto.[22]
Works published by Nintendo
Note that during his tenure as a president of Nintendo, Satoru Iwata was automatically credited as "Executive Producer" in any Nintendo-published games since his promotion. As such, this list only encompasses any games released before his tenure.
Cameos
During his tenure, Iwata made cameos in a number of Nintendo games, but the most notable appearances were in WarioWare, Inc.: Mega Microgame$! where he appeared on Wario's TV and in WarioWare: Smooth Moves, where he (under the name "Shop Manager Iwata") was the owner of a video game store and sold 18-Volt a Game & Watch for 9-Volt.
During the credits sequence for Star Fox Zero is the message, "This game is dedicated to our wingman who fell in battle."
Prior to the Nintendo Switch 4.0.0 system update (October 18, 2017), a Nintendo Entertainment System emulator containing the NES version of Golf internally known as "Flog" was secretly released as an Easter egg. It can only be run if the Nintendo Switch's month and day is July 11th (the day Iwata passed away) and the player performs Iwata's Nintendo Direct gesture. If the Nintendo Switch has previously connected to the Internet or updated past 1.0.0, the player must also wait for the actual day; setting the date manually will no longer work. Flog is no longer accessible on firmware higher than version 4.0.0.[23]
External links
References
The information in this YouTube video The Life of Satoru Iwata - Gaming Historian has also been heavily relied on (however the sources within have not been provided in their description).

Presidents
Managers, etc.
Internal
Subsidiaries

NNSD: Yusuke Beppu
Monolith Soft: Hirohide Sugiura, Tetsuya Takahashi
1-Up Studio: Gen Kadoi
ND Cube: Hidetoshi Endo
Retro: Michael Kelbaugh
NERD: Alexandre Delattre