Site Notice
We have a limited coverage policy. Please check our coverage page to see which articles are allowed.
Please no leaked content less than one year old, or videos of leaks.
Content copied verbatim from other websites or wikis will be removed.
Pokémon Stadium 2
Jump to navigation
Jump to search
Pokémon Stadium 2
ポケモンスタジアム 金銀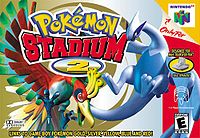 Boxart of Pokémon Stadium 2
| | |
| --- | --- |
| N. America: | March 28, 2001 |
| Japan: | December 14, 2000 |
| Europe: | October 19, 2001 |
| Australia: | 2001 |
| S. Korea: | N/A |
Pokémon Stadium 2 is a Pokémon series game allowing players to battle with Pokémon on the Nintendo 64 in 3D stadiums, like previous games in the Pokémon Stadium series, but introducing the new Pokémon from Pokémon Gold and Silver Versions (and Pokémon Crystal Version).
Blurb
Story
Gameplay
A successor to the original Pokémon Stadium (international), which features all the Pokémon introduced in Pokémon Gold and Silver Versions (known in the Pokémon community as the Generation II Pokémon) and new features.
Communication
This article is incomplete.
You can help by filling in the missing information.
Using the Transfer Pak, like previous Stadium games, the player can upload teams from Pokémon Gold and Silver Versions, as well as Pokémon Crystal Version to use in-game. There are also, like the previous game, gift Pokémon to download on to the Game Boy Color game.
Exclusive to Japanese versions of Pokémon Crystal that used the Mobile System GB, players could communicate with Crystal to:
Record battles that can be replayed on Pokémon Stadium 2, or challenge the team in the video.
Content pertaining to Pokémon tournaments in Japan could be purchased for 10 yen each.
Obtain Battle Data including new "Battle Rules".
External links
References
| | |
| --- | --- |
| | This article is a stub. You can help NintendoWiki by expanding it. |