Site Notice
Please check our Coverage page to see what deserves an article and what doesn't.
Please no leaked content less than one year old, or videos of leaks.
Pokémon Scarlet and Violet
Jump to navigation
Jump to search
Pokémon Scarlet
ポケットモンスター スカーレット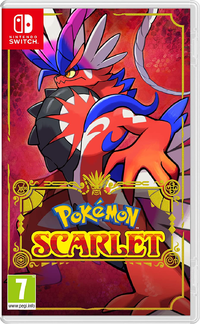 Cover artwork of Pokémon Scarlet
Pokémon Violet
ポケットモンスター バイオレット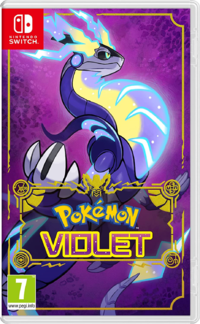 Boxart of Pokémon Violet
| | |
| --- | --- |
| Worldwide: | November 18, 2022[1] |
Pokémon Scarlet and Pokémon Violet are the primary paired versions of Generation IX. The games were released on the Nintendo Switch worldwide on November 18, 2022. All copies of the game are playable in nine languages: Japanese, English, German, Spanish, French, Italian, Korean, and Simplified and Traditional Chinese.
The game was announced worldwide on Pokémon Day on February 27, 2022, at 11 PM JST through Pokémon Presents.
New features
[
edit
]
The games take place in the Paldea region. It is an open world where areas are seamlessly connected.
The player is a student at an academy known as the Naranja Academy (for Pokémon Scarlet) or Uva Academy (for Pokémon Violet).
The Pokémon Professor varies by version. In Scarlet it is Professor Sada, and in Violet it is Professor Turo.
The Terastal phenomenom allows Pokémon to be enjeweled with the Tera Orb and change to their Tera type. The Tera type may be different to its ordinary type.
The game is split into four story arcs. They don't have to be taken in the same order (except for the last), and the player has freedom to diverge from one arc to progress on another.

The Victory Road arc involves defeating eight Gym Leaders and becoming the Pokémon Champion.
The Path of Legends arc involves helping Arven find and research special ingredients known as Herba Mystica, guarded by huge uncatchable versions of existing Pokémon known as Titan Pokémon.
The Starfall Street story arc involves confronting and taking down the villainous Team Star.
The Way Home story arc can only be taken after completing the other three arcs, and involves exploring Area Zero and its various research stations to solve some problems relating to Professor Sada/Turo and Koraidon/Miraidon. There are various battles with Paradox Pokémon which differ based on the version.

The player can battle terrastalised Pokémon in Tera Raid battles for rewards.
Rare unidentified Pokémon appear known as Paradox Pokémon. In Pokémon Scarlet they come from the ancient past, and in Pokémon Scarlet they come from the future.
The player can take classes at the academy on biology, math, history, languages, battle studies, art, and home economics. They consist of eight lectures, a mid-term and final exam.[2] Attending them gives the player the chance to interact with the teachers for rewards.
The player can have a picnic with Pokémon and make sandwiches. Breeding Pokémon now takes place by waiting with two compatible Pokémon at the picnic, as there is no longer a Pokémon Day Care in these games. Pokémon can now inherit Egg Moves from other Pokémon in the picnic, with the Mirror Herb item regardless of species, gender of Egg Group.
Walking Pokémon return in this game, and can now explore/battle on their own in Let's Go! mode.
Trainer customisation returns; the player can customise the player and buy clothes for them at the boutique, change their hair at the stylist. New to this game is customising the Rotom Phone with phone cases.
Updates
[
edit
]
| Version no. | Release date(s) | Description |
| --- | --- | --- |
| 1.0.0 | Initial version | Initial version, playable on physical versions while not connected to the Internet. |
| 1.0.1 | November 10, 2022 | Required for online play, and the initial Nintendo eShop version. Fixes various glitches, changes some Pokémon move compatibilities, reduces the Base-Stat Totals of the Treasures of Ruin by 10 each (Ting-Lu, Chien Pao, Wo-Chien, and Chi-Yu). |
The titles of Pokémon Scarlet and Violet are similar to several Japanese trademarks registered by Nintendo, Creatures, and Game Freak in 2008 and 2009.[3] The Chinese titles use the same characters as two of the trademarks.[citation needed]
These are the first paired core series games in which the player characters' initial appearance differs depending on the version.

In addition, these are the first core series games in which the player characters wear the same outfit regardless of gender.

These are the first core series games since Pokémon Black 2 and White 2 to be named after colors (ignoring remakes if Diamond and Pearl count as colors) (such as hex triplet #b9f2ff sometimes referred to as "diamond" even though diamonds vary in color, and hex triplet #eae0c8 "pearl").
References
[
edit
]
| | |
| --- | --- |
| | This article is a stub. You can help NintendoWiki by expanding it. |