Site Notice
We have a limited coverage policy. Please check our coverage page to see which articles are allowed.
Please no leaked content less than one year old, or videos of leaks.
Content copied verbatim from other websites or wikis will be removed.
Pokémon Café ReMix
Jump to navigation
Jump to search
Pokémon Café ReMix
ようこそ!ポケモンカフェ ~まぜまぜパズル~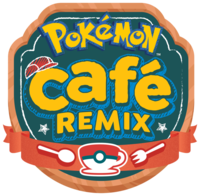 Logo of Pokémon Café ReMix
Pokémon Café Mix
Pokémon Café Mix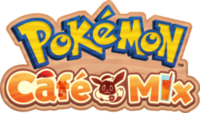 Logo of Pokémon Café Mix
Worldwide:
June 24, 2020 (Mix)
October 28, 2021 (ReMix)
N. America:
June 23, 2020 (Mix)
October 27, 2021 (ReMix)
©Pokémon (Game Freak/Nintendo/Creatures, Inc.
Pokémon Café ReMix is a free to start game in the Pokémon series, released for both Nintendo Switch and mobile. It is the revamped version of Pokémon Café Mix, launched on October 28, 2021 (October 21 in North America).
Original release
This game was originally known as Pokémon Café Mix and released on June 24, 2020 (June 23 in North America). Updating Pokémon Café Mix now replaces the original game with Pokémon Café ReMix, meaning it is no longer available officially.
Blurb
Pokémon Café Mix is a unique puzzle game where the player is now the owner of a café that serves delicious treats to Pokémon.
Complete puzzles by linking together Pokémon icons to prepare drinks and dishes for your Pokémon customers as they have a wonderful time at the café!
Order's up! Your next Pokémon customer awaits.
Grand Opening! Experience what it's like to run your own Pokémon Café that serves cute and delectable offerings for Pokémon customers. Order's Up! Drag Pokémon icons in a swirling motion to link them together and solve challenging puzzles that create a variety of drinks and dishes with adorable Pokémon motifs. Help Wanted! Befriend and recruit your favorite Pokémon by serving amazing treats to create special friendships. Seconds, Please! As your café becomes a hit with the Pokémon customers, you'll be able to expand the café to accommodate your booming business, allowing for more Pokémon guests and new café offerings.[1]
Blurb (ReMix)
"Pokémon Café Mix has received some sweet enhancements and a new title: Pokémon Café ReMix!
In this free-to-start puzzle game, you'll befriend Pokémon and complete puzzles to create wonderful drinks and dishes to serve at your Pokémon Café.
Solve puzzles by linking matching Pokémon icons to clear them from the screen. Each puzzle has a set of objectives, so think carefully before making your move. As your café menu grows, new recipes will bring new ingredients. Stay on the lookout for ingredients appearing on the puzzle board, and try new tactics to clear them all.
Your café is staffed by hard-working Pokémon—and they're always eager to help! Use their special Café Skills to help clear the puzzles. Eevee will be the first Pokémon on your staff when you open your café, but by solving puzzles and creating delightful Pokémon-themed café offerings that are almost too adorable to eat or drink, you'll soon have more Pokémon joining you!
The more you play, the more your café will grow with new areas and upgrades. As you serve yummy drinks and dishes to your Pokémon customers, you'll build friendships with them. Once you've reached a high enough level of friendship with a Pokémon, it'll join your café staff. Keep developing your café, and new Pokémon will be inspired to visit!
With multiple game modes to choose from, you can dish out tasty treats in a variety of different ways. Recruit specific Pokémon by preparing additional orders, challenge completed orders to earn more stars, work with your Pokémon partners to develop new menu items, and more. There are new events, outfits, and gimmicks to discover, so head to your Pokémon Café and make something delicious!
Pokémon Café ReMix is available for download now. Visit the official site for details!"[2]
References