Site Notice
We have a limited coverage policy. Please check our coverage page to see which articles are allowed.
Please no leaked content less than one year old, or videos of leaks.
Content copied verbatim from other websites or wikis will be removed.
Pokémon X and Y
Jump to navigation
Jump to search
Pokémon X
ポケットモンスターX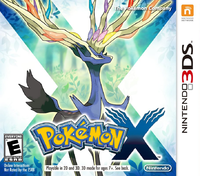 Cover artwork of Pokémon X
Pokémon Y
ポケットモンスター Y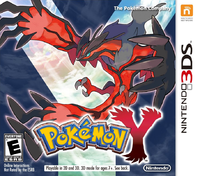 Boxart of Pokémon Y
| | |
| --- | --- |
| Worldwide: | October 12, 2013 |
Pokémon X and Pokémon Y are the main Pokémon games released for the sixth generation of the series. Both games were revealed during a worldwide announcement by Satoru Iwata through the Nintendo Direct on January 8, 2013. The games were later released worldwide on October 12[1]; Pokémon X and Y are the only games published by Nintendo to be released simultaneously worldwide. Every copy can also be played in every language the game was released in.
Blurb
Boxes
The next evolution in Pokémon!
New Pokémon! Explosive 3D battles! Exciting New Features!
Nintendo eShop
Skate, bike, and even ride a Pokémon as you set out for all-new adventures in the Kalos region. The new Fairy-type shakes up battle strategies and brings the number of Pokémon types up to 18. Some Pokémon can Mega Evolve while in battle, throwing standard battles out the window in favor of all-out brawls. With Mega Evolutions, Fairy-type Pokémon, Super Training and more, an undiscovered world of new battle strategies awaits. And with the new Player Search System, you can also connect and communicate with players nearby and around the world at the press of a button!
Story
Like in past Pokémon games, the player is a Pokémon Trainer who is given a Pokémon and sets out to complete the Pokédex and challenge and defeat the Pokémon League. Along the way, the player encounters Team Flare, who wish to preserve the beauty of the world, but seem to have evil intentions.
Gameplay
The gameplay remains mostly the same as past installments in the series. In addition to adding 70 new Pokémon to the series, Pokémon X and Y are the first fully 3D installments in the core series; players are able to move in an 8-directional grid rather than four like in the previous games and can move freely using roller skates. Players are also able to customize their trainers.
For the first time since the second-generation games, Pokémon Gold Version and Silver Version, a new Pokémon typing has been added: Fairy. Another new battle mechanic is the addition of Mega Evolutions. Later in the game, the player is given a Mega Bracelet, which allows Pokémon to hold a Mega Stone to Mega Evolve, obtaining a new form and boosting their stats.
Three new out-of-battle mechanics have also introduced: Super Training, which allows players to quickly boost their Pokémon's effort values; Pokémon-Amie, which allows players to increase their bond with their Pokémon; and the Player Search System, which allows players to search for other players and battle and trade with them.
Updates
| Version no. | Release date(s) | Description |
| --- | --- | --- |
| 1.1 | October 25, 2013 | Fixes the Lumiose City save glitch, fixes a glitch that occurs when using certain function of the GTS. |
| 1.2 | December 12, 2013 | Encrypts trade and battle data to prevent the use of cheating programs, fixes a bug where Pokémon would not keep a move learnt after evolving through the Wonder Trade function, fixes a bug where certain captions for the Trainer PR Video function would not be unlocked. |
| 1.3 | October 28, 2014 | Bug fixes. Requires 320 blocks of save data |
| 1.4 | April 2, 2015 | Bug fixes. |
| 1.5 | April 22, 2015 | Bug fixes. |
Related games
External links
References