Site Notice
We have a limited coverage policy. Please check our coverage page to see which articles are allowed.
Please no leaked content less than one year old, or videos of leaks.
Content copied verbatim from other websites or wikis will be removed.
Pokémon Channel
Jump to navigation
Jump to search
Pokémon Channel
ポケモンチャンネル ~ピカチュウといっしょ!~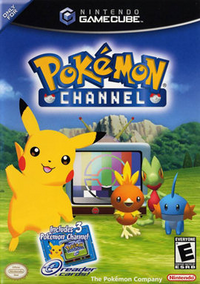 North American boxart of Pokémon Channel
| | |
| --- | --- |
| N. America: | December 1, 2003 |
| Japan: | July 18, 2003 |
| Europe: | April 2, 2004 |
Pokémon Channel is a spin-off game of the Pokémon series released for the Nintendo GameCube in 2003 and 2004.
Blurb
Professor Oak needs your help! Pokémon Channel is a TV-broadcasting network that airs a variety of Pokémon programs, and he's selected YOU as the initial test audience! With the help of Pikachu and other Pokémon, you can make Pokémon channel the highest rated channel on TV!
Pokémon News Flash - Watch Psyduck deliver the news while Meowth reports on-location. Pay close attention for hints on where to meet Pokémon. Featuring an all-new animation: Pichu Bros. in Party Panic! exclusively for Pokémon Channel! Smeargle's Art Study - Paint your favorite scenes and have them evaluated by Smeargle! Shop 'N Squirtle - Use purchase points to buy items for your room and make it more Pikachu friendly! Play with Pikachu outside and meet many different Pokémon! Pokémon mini - Play a virtual version of Pokémon mini and select from a variety of mini game titles!
Gameplay
The player stays at home with Pikachu, and can interact with it. One of the main features of the game is watching television with Pikachu. There are a variety of channels themed with Pokémon, such as Shop 'N Squirtle, Smoochum Shape-up to name a few, as an episode of the Pokémon anime, specifically of the Pichu Brothers (however, it is initially divided into five parts).
Another feature is exploring a few areas outside around Mintale Town, the main setting of the game; where the player can encounter Pokémon and answer their quizzes. The player also has their own garden.
The North American and Australian versions of the game include e-Reader support for the Smeargle Paint minigame, as well as a Pokémon mini with some of the games emulated from the actual physical Pokémon mini and one new game, called Snorlax's Lunch Time.
The European and Australian versions of the game also have an in-built special promotion for downloading the Mythical Pokémon Jirachi, which is possible after clearing the story (unlocking all channels, fixing the TV, recovering a lost channel).
The player can collect a variety of "Nice Cards", featuring several Pokémon species.
References
External links