Site Notice
Please check our Coverage page to see what deserves an article and what doesn't.
Please no leaked content less than one year old, or videos of leaks.
HAL Laboratory
Jump to navigation
Jump to search
HAL Laboratory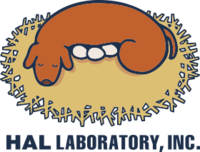 HAL Laboratory's logo since 1998
| | |
| --- | --- |
| Founded: | February 21, 1980 |
| Founder: | Mitsuhiro Ikeda |
| President: | Shigefumi Kawase |
| Parent / owner: | N/A |
| Divisions / subsidiaries: | Warpstar Inc., HAL America, HAL Egg |
HAL Laboratory, Inc. (株式会社ハル研究所 Kabushiki gaisha Haru Kenkyūjo) is a development studio partnered and closely affiliated with Nintendo. For many of their projects they in the early to mid-1990's the company went under the name HALKEN, and published many of their early titles through HAL America. The name "HAL" was at first thought to be derived from HAL 9000, the AI villain of the 2001 A Space Odyssey film, as stated by Satoru Iwata himself[1], though he later stated that the name was actually decided upon because "each letter put us one step ahead of IBM"[2]. The HAL logo is a dog incubating a group of eggs; according to president Masayoshi Tanimura, the logo represents the thought put into "completely new ideas that eventually hatch into incredibly fun games."[3]
HAL was founded by a group of friends in 1980 that simply wanted to develop games. The group started off creating titles for the MSX and Commodore VIC-20[4] and later started developing exclusively for Nintendo. Satoru Iwata was made president of the company in 1993 until 2000, when he became CEO of Nintendo. Masayoshi Tanimura was later promoted to president of HAL.
HAL is most well known as being the developer for the Kirby series, created by ex-employee Masahiro Sakurai. While under HAL Sakurai also began the Super Smash Bros. series. HAL has also helped in developing the EarthBound / Mother series.
In August of 2017, HAL announced the opening of a new subsidiary named HAL Egg, which will focus on the development of smartphone titles.[5]
Games published by Nintendo
[
edit
]
External links
[
edit
]


HAL Laboratory on other NIWA Wikis:
References
[
edit
]

Presidents
Managers, etc.
Internal
Subsidiaries

NNSD: Yusuke Beppu
Monolith Soft: Hirohide Sugiura, Tetsuya Takahashi
1-Up Studio: Gen Kadoi
ND Cube: Hidetoshi Endo
Retro: Michael Kelbaugh
NERD: Alexandre Delattre