Site Notice
We have a limited coverage policy. Please check our coverage page to see which articles are allowed.
Please no leaked content less than one year old, or videos of leaks.
Content copied verbatim from other websites or wikis will be removed.
Mother 3
Jump to navigation
Jump to search
Mother 3
MOTHER3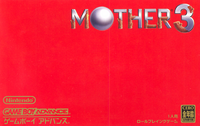 Cover artwork of Mother 3
| | |
| --- | --- |
| N. America: | Cancelled |
| Japan: | April 20th, 2006 |
Mother 3 is the third game in the EarthBound series, taking place an unknown amount of time after EarthBound. Originally developed as a late SNES title, the project was shifted to the Nintendo 64 and even later the Nintendo 64DD, where it received the tentative title of Mother 64 in Japan and EarthBound 64 overseas. However, the project was cancelled in late 2000. The game was eventually announced for release in Japan on the Game Boy Advance in 2003, after the release of Mother 1+2, and, despite popular demand, was never released officially in any other region, presently being the only game in the series to lack an official international release.
Story
Mother 3 is primarily set in and around Tazmily Village, in the Nowhere Islands.
Gameplay
Mother 3 has gameplay similar to EarthBound. Continuing the trend across the Mother series, the game is more linear, featuring only a single town, Tazmily, with the majority of the game taking place around there. There is an emphasis on the story over the more open exploration of the previous games. The game expands on several aspects used elsewhere in the series. For instance, in EarthBound, a player would control Jeff and Poo by themselves at points in the story - here, a different character is used for each of the first four chapters. One new aspect is the battle combo system. There are many battle themes that play when fighting enemies and bosses in the game. If a player should press the attack button in the rhythm of the piece playing (sometimes based on the bassline rather than a direct tempo meter), they can combo their attack, up to 16 times, which does far more damage than a single attack. Similarly to EarthBound, by the end, the party consists of a young boy and a young girl with psychic powers, a person who can't use PP moves and another, unlike the preceding game, who also cannot.
Reception
The game was sought after in Japan prior to release by Famitsu as one of the top five wanted games.[1][2]
An official English translation was considered but cancelled in fear that the themes in the game would be seen as too controversial.[3][4]
Even though the game was never officially released in the West, the Starmen.net community and professional translator Clyde Mandelin produced an English fan translation of the game. Since then, Mother 3 has been fan translated into other languages.
Technical details
Other releases
| Title | Cover art | Platform | Release date(s) | Notes |
| --- | --- | --- | --- | --- |
| Mother 3 | | Wii U (Virtual Console) | JP: December 17, 2015 | A port of the game released as a digital download on the Nintendo eShop for Wii U, with Virtual Console emulator features. |
References
External links
| | |
| --- | --- |
| | This article is a stub. You can help NintendoWiki by expanding it. |