Site Notice
We have a limited coverage policy. Please check our coverage page to see which articles are allowed.
Please no leaked content less than one year old, or videos of leaks.
Content copied verbatim from other websites or wikis will be removed.
Super Nintendo Entertainment System
Jump to navigation
Jump to search
Super Nintendo Entertainment System
Sūpā Famikon スーパーファミコン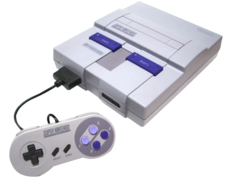 North American Super Nintendo Entertainment System with controller
| | |
| --- | --- |
| Media | Super Nintendo Entertainment System Game Pak |
| Storage capacity | 128 Kb RAM |
| CPU | 3.58 MHz Ricoh 5A22 |
| Model no. | SNS-001 |
Launch date
NA: September 9, 1991
JP: November 21, 1990
EU: June 6, 1992
AUS: July 3, 1992
KOR: 1990
Discontinue date
JP: September 2003[1]
NA: 1999
KOR: 2003
Units sold
WW: 49.10 million[2]
NA: 23.35 million[3]
JP: 17.17 million[3]
The Super Nintendo Entertainment System (abbreviated as SNES and Super NES or commonly Super Nintendo) is a 16-bit video game console created by Nintendo. It is the successor to the original Nintendo Entertainment System and Famicom and Nintendo's entry into the 16-bit era, primarily competing with Sega's Mega Drive/Genesis console.
The system was originally released in Japan on November 21, 1990, as the Super Famicom. The Super Nintendo Entertainment System was released in America on August 13, 1991, and later in Europe in April, 1991 and in Australia in July, 1991. The SNES was released in South Korea as the Super Comboy by Hyundai Electronics, due to the country's embargo on Japanese products at the time. Unlike the Comboy, which was a rebranded American NES, the Super Comboy was a rebranded European/Japanese SNES.
Despite its later release compared to its competitors and significantly lower sales than the original Famicom / NES, the Super Nintendo Entertainment System was the best-selling console of its time, selling over 49 million units worldwide in its lifespan (outselling Sega's console by around 19 million unis). The console was discontinued in Europe and North America in 1999, while in Japan the console continued production until September 2003. The SNES was followed by the Nintendo 64 in 1996.
Features
Games
Accessories
External links
References
| | |
| --- | --- |
| | This article is a stub. You can help NintendoWiki by expanding it. |

Controllers and accessories
Add-on devices
* - Cancelled

| Standalone consoles | Arcade | Pokémon | Classics | Cancelled |
| --- | --- | --- | --- | --- |
| | | | | |