Site Notice
Please check our Coverage page to see what deserves an article and what doesn't.
Please no leaked content less than one year old, or videos of leaks.
Tatsumi Kimishima
Jump to navigation
Jump to search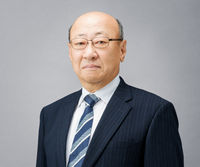 Tatsumi Kimishima (April 21, 1950 - ) was the fifth President and CEO of Nintendo, decided upon in a board meeting on September 14, 2015, two months after the passing of fourth President Satoru Iwata. Kimishima was previously president of Nintendo of America, later becoming a Chairman and the CEO, and even later the Managing Director of Nintendo. Kimishima stepped down as president on June 28, 2018, and was succeeded by Shuntaro Furukawa.
Biography
[
edit
]
Kimishima was born on April 21, 1950 in Tokyo. After graduating from Hitotsubashi University, he was employed at the Sanwa Bank of Japan, where he worked for 27 years stationed in and around the United States.
In 2000, Kimishima was appointed as the Chief Financial Officer of The Pokémon Company. He would hold this position until February 2001, when he became the first President of Pokémon USA after its founding.
In January 2002, Hiroshi Yamauchi appointed Kimishima the Nintendo of America, after the retirement of Minoru Arakawa. He was later made a director of Nintendo in June alongside his role as president. In May of 2006 Kimishima was succeeded by Reggie Fils-Aime as President of Nintendo of America, but was instead made CEO and Chairmand of the Board.
Kimishima left his roles at Nintendo of America in June 2013 to become Managing Director of Nintendo, taking on the roles of Yoshihiro Mori and Masaharu Matsumoto as the general manager of both Corporate Analysis and Administration and the General Affairs Division; his role as CEO was taken over by Global President Satoru Iwata.
In September 2015, Kimishima was promoted to Representative Director and President of Nintendo after the death of Satoru Iwata, as decided by the Board of Directors[1]. Kimishima has stated that he intends to continue with the direction established by Satoru Iwata in the company's entering the mobile market.[2]
Credits
[
edit
]
As a previous president of Nintendo, Tatsumi Kimishima was automatically credited as executive producer for most games produced during his tenure. As such, this list only encompasses games released before.
External links
[
edit
]
References
[
edit
]

Presidents
Managers, etc.
Internal
Subsidiaries

NNSD: Yusuke Beppu
Monolith Soft: Hirohide Sugiura, Tetsuya Takahashi
1-Up Studio: Gen Kadoi
ND Cube: Hidetoshi Endo
Retro: Michael Kelbaugh
NERD: Alexandre Delattre