Site Notice
Please check our Coverage page to see what deserves an article and what doesn't.
Please no leaked content less than one year old, or videos of leaks.
Reggie Fils-Aimé
Jump to navigation
Jump to search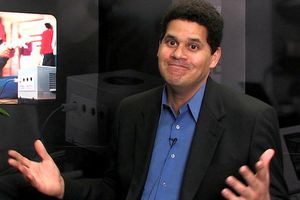 Reginald "Reggie" Fils-Aime (born March, 1961) is the former president and COO of Nintendo of America.
Fils-Aime began with the company as its Vice President of Sales and Marketing in 2003, responsible for the image Nintendo displayed to the world. Formerly chief marketing officer at VH1, Fils-Aime took the stage at E3 in 2004 to make Nintendo's announcements for that year. Introducing himself, he claimed to the audience:
[1]

"My name is Reggie. I'm about kickin' ass, I'm about takin' names, and we're about makin' games!"

–Reggie Fils-Aime,
E3 2004
As Fils-Aime continued Nintendo's presentation, he spoke with great enthusiasm about what Nintendo had to offer in the coming year, with Project Revolution, Nintendo's then-upcoming next-gen console, only two years away, fans were enthusiastic about Nintendo's return to glory. With the Nintendo 64 and Nintendo GameCube falling behind rivals Sony and Microsoft in sales, many fans were glad to hear Fils-Aime's introduction, with the internet soon dubbing his arrival at Nintendo as the "Reggielution".
In mid 2006, Fils-Aime was promoted from Vice President of Sales and Marketing to President and COO of Nintendo of America, replacing Tatsumi Kimishima, who moved up to the position of CEO of Nintendo of America. [2] In this position, Fils-Aime oversaw the Sales and Marketing division of Nintendo through the release of the Wii at the end of the year, and was responsible as the company entered the next generation of gaming.
In February 2019, it was announced that Reggie would be retiring from his position on April 15, with Doug Bowser succeeding him.[3]
| | |
| --- | --- |
| | This article is a stub. You can help NintendoWiki by expanding it. |
References
[
edit
]
↑ "My name is Reggie. I'm about kickin' ass. I'm about takin' names. And we're about making games." —http://www.fastcompany.com/resources/marketing/manners/100404.html (Fast Company: Reggie Who?, written by Tim Manners, dated 10/4/04); retrieved 3/30/2010
↑ "Current President Tatsumi Kimishima is taking on the new role of chairman of the board and chief executive officer, while Reggie Fils-Aime is being promoted to president and chief operating officer from his current role as executive vice president of Sales & Marketing." —http://www.gonintendo.com/viewstory.php?id=2760 (GoNintendo: [Nintendo press release] Reggie gets promoted!, dated 5/26/06); retrieved 3/30/2010
↑ Nintendo of America on Twitter (February 21, 2019). Retrieved February 21, 2019.