Site Notice
We have a limited coverage policy. Please check our coverage page to see which articles are allowed.
Please no leaked content less than one year old, or videos of leaks.
Content copied verbatim from other websites or wikis will be removed.
Yoshio Sakamoto
Jump to navigation
Jump to search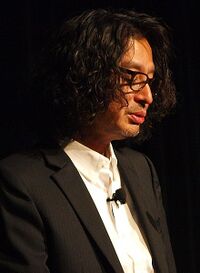 Yoshio Sakamoto (Japanese: 坂本 賀勇) is a Nintendo staff member and manager of Nintendo Software Planning & Development. He was also a former member of Team Shikamaru and Nintendo Research & Development 1.
Yoshio Sakamoto has worked on a number of games, as director, producer, story writing/scenario and advisor but is perhaps best known for his work on the Metroid series.

Presidents
Managers, etc.
Internal
Subsidiaries

NNSD: Yusuke Beppu
Monolith Soft: Hirohide Sugiura, Tetsuya Takahashi
1-Up Studio: Gen Kadoi
ND Cube: Hidetoshi Endo
Retro: Michael Kelbaugh
NERD: Alexandre Delattre
| | |
| --- | --- |
| | This article is a stub. You can help NintendoWiki by expanding it. |