Site Notice
We have a limited coverage policy. Please check our coverage page to see which articles are allowed.
Please no leaked content less than one year old, or videos of leaks.
Content copied verbatim from other websites or wikis will be removed.
Game & Watch Gallery
Jump to navigation
Jump to search
Game & Watch Gallery
ゲームボーイギャラリー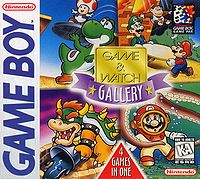 North American boxart of Game & Watch Gallery
N. America:
May 1997 (GB)
July 14, 2011 (3DS)
Japan:
February 1, 1997 (GB)
June 22, 2011 (3DS)
Europe:
1997 (GB)
July 21, 2011 (3DS)
Australia:
1997 (GB)
July 21, 2011 (3DS)
S. Korea:
N/A
Game & Watch Gallery, known in Australia as Game Boy Gallery 2 and in Japan as Game Boy Gallery, is a video game released for the Game Boy in 1997 and later released for the Virtual Console on the Nintendo 3DS in 2011. It is a compilation of four Game & Watch games: Manhole, Fire, Octopus, and Oil Panic.
Blurb
"Original and updated versions of four Game & Watch hand held games!
Classic versions will take you back to the '80s and a simpler time in video games. Modern versions feature your favorite characters and will bring you to the present with improved play control and sound effects."
Gameplay
The games can be played in either classic or modern mode, each of which are playable in easy and hard difficulty. Classic mode allows the player to play the game with its original graphics and sound. Modern mode features an updated version of the game, with newer graphics and characters from the Super Mario series. After the player has scored 1,000 points or more in the modern version of the game, they unlock the option to play the more challenging "very hard" difficulty for that game. While the gameplay of the classic versions is mostly the same as the original, the modern versions feature some additional new elements of gameplay to the original games. There is also an interrupt save function that can save the player's current progress while playing a game and allow them to turn off the system and return to the game later.
References
External links
| | |
| --- | --- |
| | This article is a stub. You can help NintendoWiki by expanding it. |