Site Notice
We have a limited coverage policy. Please check our coverage page to see which articles are allowed.
Please no leaked content less than one year old, or videos of leaks.
Content copied verbatim from other websites or wikis will be removed.
Super Metroid
Jump to navigation
Jump to search
Super Metroid
スーパーメトロイド
Sūpā Metoroido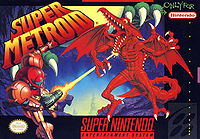 Boxart for Super Metroid
| | |
| --- | --- |
| N. America: | April 18, 1994 |
| Japan: | March 19, 1994 |
| Europe: | July 28, 1994 |
| Australia: | 1994 |
Super Metroid is an action-adventure platforming game and the third game in the Metroid franchise, released for the SNES in 1994. Referred to as "Metroid 3" in-game, it is a direct sequel to Metroid II: Return of Samus, and eight years later would receive a sequel in the form of Metroid Fusion. Even later, in 2010, Metroid: Other M would be released as a direct follow-up to this game.
In Europe, Super Metroid was released both individually and in a larger package that included a 72-page game guide.
Blurb
| | |
| --- | --- |
| | This section is a stub. You can help NintendoWiki by expanding it. |
Box
Team up with the strength of Samus in this Super Metroid clash!
Take on a legion of space pirates and a new Metroid as you forge into the covert underworld of Planet Zebes! It's up to you and Samus to recapture the Metroid hatchling before evil hands unleash its energy.
An army of ominous creatures are poised for battle at every turn of Zebes' twisted, threatening passageways... including the menacing Ridley and the great lizard Kraid. Knock down enemies with a killer somersault and swing on an electric beam through narrow passageways! There's so much for you Samus... but wait! It seems the Mother Brain has returned...
24 Megs of action in the largest SNES game ever!
It's the toughest Metroid clash yet!
Six huge areas to explore!
Samus has an arsenal of new beams, missiles, and super high-tech devices.
Battery-backed memory saves your progress!
Story
The story of Super Metroid is set near-directly after the events of Metroid II. After Samus brought about the near-extinction of the Metroids and rescued the Metroid hatchling on SR388, she gave it to the Ceres Space Colony for research. Soon after, she receives a distress signal and returns to the space station to investigate, finding the researchers dead. She then finds the Metroid, but Ridley appears and captures it, activating the station's self-destruct sequence. After Samus escapes, she chases Ridley to Zebes, where she must fight and defeat the Space Pirates once again to save the baby Metroid.
Gameplay
Gameplay largely remains the same as in Metroid and Metroid II, but has seen some changes. Like in the original, the game is set on Zebes, an open-ended world that players, controlling Samus Aran, are able to explore. Players travel around the world collecting upgrades such as new weapons and equipment to navigate the world further, the main goal being to defeat four bosses scattered around the planet in order to access the Space Pirates' new base. While Samus retains many of her moves and much of the equipment is the same, Super Metroid introduces many new techniques and abilities to the series, such as the Shinespark or wall jumping.
Samus has a health bar that can be upgraded, and when it depletes to zero the player is given a game over. This game carries over the saving function seen in Metroid II and the Famicom Disk System version of the original, allowing players to save their progress at specified points, including Samus' ship. The game also has an inventory screen, which allows players to view a map of the area they are in and enable and disable their equipment at will.
Super Metroid also has a time-based ending sequence, determined by how long it takes for the player to complete the game.
Technical details
Other releases
Title
Cover art
Platform
Release date(s)
Notes
Super Metroid
SNES (Player's Choice)
NA: 1995
A re-release of the game under the Player's Choice branding.
Super Metroid
Super Famicom (Nintendo Power)
JP: 1997
A re-release of the game as part of the Nintendo Power download service.
Super Metroid
Wii (Virtual Console)
NA: August 20, 2007
JP: September 20, 2007
EU/AUS: October 12, 2007
KOR: April 26, 2008
A direct port of the game released as a digital download on the Wii Shop Channel.
Super Metroid
Wii U (Virtual Console)
NA/JP: May 15, 2013
EU/AUS: May 16, 2013
A direct port of the game released as a digital download on the Nintendo eShop for Wii U, with Virtual Console emulator features.
Super Metroid
New Nintendo 3DS (Virtual Console)
NA: April 14, 2016
JP: April 6, 2016
EU/AUS: March 10, 2016
A direct port of the game released as a digital download on the Nintendo eShop for New Nintendo 3DS, with Virtual Console emulator features.
Super Metroid
Super Nintendo Entertainment System: Super NES Classic Edition
NA/EU: September 29, 2017
A port of the original game, re-released as one of twenty-one games built onto the system.
External links


Super Metroid on other NIWA Wikis: