Site Notice
Please check our Coverage page to see what deserves an article and what doesn't.
Please no leaked content less than one year old, or videos of leaks.
Super Mario Kart
Jump to navigation
Jump to search
Super Mario Kart
スーパーマリオカート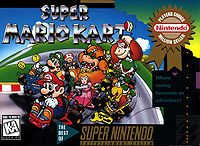 Cover artwork of Super Mario Kart
N. America:
September 1, 1992 (SNES)
November 23, 2009 (VC)
Japan:
August 27, 1992 (SNES)
June 9, 2009 (VC)
Europe:
January 21, 1993 (SNES)
April 2, 2010 (VC)
Australia:
April 2, 2010 (VC)
Super Mario Kart is the first installment in the Mario Kart series, released in 1992 for the SNES. It is one of the two 2D installments in the series, the other being Mario Kart: Super Circuit. Selling 8.76 million copies as of March 31, 2014, Super Mario Kart is the third best-selling game on the SNES.
The first Go-Kart Racing game to come out for the SNES. Featuring all of the Super Mario bunch like Mario, Luigi, King Koopa, Toadstool, and the almost forgotten Donkey Kong Jr. Collect many power ups like mushrooms to speed you up; throw Koopa shells or banana peels at your opponent's to slow them down, plus many more items. The Battle mode is an excellent two player game, use the split screen view to watch both players battle it out. Super Mario Kart is a fun and exciting addition to the famous family of Mario games.
Gameplay
[
edit
]
Basic gameplay consists of racers racing on various tracks while using items to assist them in placing first. Players can play as one of the 8 characters in the game (Bowser, Luigi, Mario, Princess Peach, Yoshi, Toad, Koopa Troopa, and Donkey Kong Jr.). The game features four cups with five courses each. There are two modes incorporated into the game: 1-Player, and 2-Player. In the 1-Player game, the player races computer-controlled opponents. In the 2-Player mode, players can race against each other, or choose the Battle Mode and battle each other.
There are many items included in the game such as Green Shells, and Coins. Each of them can be used to the players advantage.
Technical details
[
edit
]
Other releases
[
edit
]
| Title | Cover art | Platform | Release date(s) | Notes |
| --- | --- | --- | --- | --- |
| Super Mario Kart | | SNES (Player's Choice) | NA/JPN/EU/AUS: 1996 | A re-release of the game as part of the Player's Choice line, sold at a reduced price. |
| Super Mario Kart | | Wii (Virtual Console) | NA/JPN: 2009 EU/AUS: 2010 | A port of the game released as a digital download on the Wii Shop Channel. |
| Super Mario Kart | | Wii U (Virtual Console) | JPN: 2013 NA/EU/AUS: 2014 | A port of the game released as a digital download on the Nintendo eShop for Wii U, with added Virtual Console emulator features. |
| Super Mario Kart | | New Nintendo 3DS (Virtual Console) | 2016 | A port of the game released as a digital download on the Nintendo eShop for New 3DS, with added Virtual Console emulator features. |
External links
[
edit
]