Site Notice
Please check our Coverage page to see what deserves an article and what doesn't.
Please no leaked content less than one year old, or videos of leaks.
Super Mario 3D World
Jump to navigation
Jump to search
Super Mario 3D World
スーパーマリオ 3Dワールド
Sūpā Mario Surī Dī Wārudo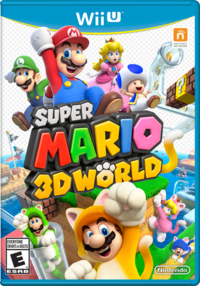 Cover artwork of Super Mario 3D World
Super Mario 3D World is the Wii U follow-up game to Super Mario 3D Land and the sixth 3D platforming game in the Super Mario series. Released in November 2013 worldwide, the game is the first 3D Super Mario game to support cooperative multiplayer, a feature that was attempted since Super Mario 64.
Captain Toad: Treasure Tracker, a spin-off game based upon the "Captain Toad" stages in this game, was released in 2014.
Explore a whole new world!
Make your way to the goal pole on your own or with friends!
Up to four players simultaneous!
Each character has different strengths!
Fun For All Levels! Helper items will appear for players that get stuck.
Nintendo website
[
edit
]
Four Players + Three Dimensions = Super Mario Fun
Work together with your friends or compete for the crown in the first multiplayer 3D Mario game for the Wii U console. In the Super Mario™ 3D World game, players can choose to play as Mario, Luigi, Princess Peach, or Toad.
Features:
Each character has unique abilities and play styles. For example, Princess Peach glides over gaps, while Luigi has his trademark extra-high jump.
The new cat transformation allows players to run on all fours, pounce on enemies, attack in midair, or use their claws to scamper up walls and goal poles.
Explore colorful 3D environments filled with obstacles and contraptions like transparent pipes and vertical conveyor belts, which add new puzzle elements.
Use the Wii U GamePad Controller's touch screen to search for hidden blocks and freeze enemies in place.
Freely roam the world map and each sprawling stage alone or team up with friends to find hidden stars while competing to take the crown for most coins and points found.
Tap the Wii U™ GamePad controller's touch screen to freeze enemies and reveal invisible secrets. Or, use the GamePad for off-TV play while tilting it to spot hidden nooks and crannies with the movable camera.
Share tales of your journey online via Miiverse™ and make your posts pop with collectable stamps found in courses and Sprixie Houses.
Challenge the ghost Mii™ characters of other online players and match their pace to score helpful gifts.
All this and more makes Mario's world deeper than ever. Jump on in!
In the Mushroom Kingdom, the Mario Bros., Princess Peach and Toad come across a bent clear pipe, which Mario and Luigi immediately fix, causing a number of items to pour out of the pipe followed by one of the Sprixie Princesses. The fairy tells the group that Bowser has captured her fellow Sprixie Princesses before Bowser appears out of the pipe and captures her as well, retreating back into the pipe. The group follow him back down the pipe and are taken to the Sprixie Kingdom, which they must save by defeating Bowser and freeing the captive Sprixie Princesses.
Gameplay
[
edit
]
Super Mario 3D World uses a similar gameplay structure to Super Mario 3D Land. Players travel through linear yet 3D stages to reach the Goal Pole at the end within the time limit. The game supports a cooperative and competitive multiplayer system, in which up to four players can play simultaneously as either Mario, Princess Peach, Luigi, and Toad, each of whom have their own unique gameplay traits and abilities, while the multiplayer system is similar in structure to New Super Mario Bros. Wii, allowing players to enter a bubble to avoid harm, though like in New Super Mario Bros. 2 all players share the same life and coin counters. Other elements from 3D Land such as its power-ups also return, though several new power-ups also appear, the primary new power-up being the Super Bell, which turns Mario into Cat Mario and allows him to climb up walls and scratch and pounce to attack.
As a throwback to previous 3D Mario games, this game features three Green Stars in each stage, which are used in a similar way to the Star Coins in the New Super Mario Bros. series, allowing players to unlock certain stages by collecting a certain amount. Most stages also feature a collectible stamp, which allows them to add pre-drawn designs when making a post to Miiverse.
In every other world, the player will find stages in which player 1 controls Captain Toad in what is known as "The Adventures of Captain Toad", navigating smaller, more compact and puzzle-oriented stages to collect all five Green Stars in the stage. In worlds where Captain Toad is not found there is instead a Mystery House, an extension of the Mystery Box concept from the previous game in which players face a series of timed challenges to collect Green Stars.
Development
[
edit
]
| | |
| --- | --- |
| | This section is a stub. You can help NintendoWiki by expanding it. |
Nintendo originally announced that a new 3D Super Mario game was in development in the January 2013 Nintendo Direct.[1] Super Mario 3D World would later be shown off for the first time in the Nintendo Direct @ E3 2013.[2]
According to Koichi Hayashida, Nintendo EAD Tokyo had thought about creating a follow-up to Super Mario 3D Land since development for that game had begun.[3]
Reception
[
edit
]
Upon release, Super Mario 3D World received critical acclaim, with many critics giving the game high if not perfect scores. Most reviewers praised the multiplayer gameplay and multiple playable characters, the new cat transformation, as well as the graphics and soundtrack, though some took issue with the game's camera when playing with multiple players. Some critics also noted that the game does little to take advantage of Wii U-specific features.
Jose Otero of IGN gave the game a 9.6 out of 10, stating that, "Super Mario 3D World is marvelous, and its constant variety and fantastic light-hearted co-op play proves that Nintendo still knows exactly how to tweak the Mario formula in fun ways." Destructoid's Chris Carter gave it a 10 out of 10, calling it, "one of the greatest Mario games ever made," and stating that "Super Mario 3D World had achieved a level of platforming design that's close to perfection, and there was almost never a moment where I didn't have a smile on my face." The game was also given an Editor's Choice Award. Bryan Vore of Game Informer rated Super Mario 3D World a 9.25 out of 10, praising the game's multiple characters as a "refreshing change of the formula" and that it "teases Nintendo's willingness to tweak tradition throughout the rest of the game," overall calling it "an excellent entry in the series." Eurogamer's Christian Donlan also gave the game a 10 out of 10, stating it as being "one of the strangest Mario games in years - or at least one of the most random in its influences and its moment-to-moment indulgences. And that's a very, very good thing."[5]
Before release, the game was nominated for several E3 awards. The game was a runner-up for many Best Wii U Game awards, including IGN[6], GameTrailers[7], and Destructoid[8], while the game won Best Wii U Game from Electronic Gaming Monthly.[9] IGN and Destructoid also nominated the game for Best Platformer[8][6], and the former also nominated it as the Best Overall Game.[6] After its release, Super Mario 3D World was awarded Game of the Year from publications such as Eurogamer[10] and Digital Spy[11], and was nominated by several others, including IGN[12], GameSpot[13], and GameTrailers[14] The game was also nominated for Game of the Year and other categories for the 14th Annual Game Developers Choice Awards[15], the British Academy Games Awards[16], the 32nd Golden Joystick Awards, the VGX[17], and won Best Multiplayer Game at the SXSW Gaming Awards. Super Mario 3D World was also nominated for and won several "Best Wii U Game" and "Best Nintendo Game" awards.[18][19][20] IGN also awarded the game Best Overall Platformer Game[21], and it was nominated for Best Overall Multiplayer Game[22], Best Overall Music[23].
As of September 30, 2016, Super Mario 3D World has sold over 5.19 million copies worldwide, making it the third best-selling Wii U title overall.[24]

Technical details
[
edit
]
Other releases
[
edit
]
External links
[
edit
]


Super Mario 3D World on other NIWA Wikis:
References
[
edit
]