Site Notice
We have a limited coverage policy. Please check our coverage page to see which articles are allowed.
Please no leaked content less than one year old, or videos of leaks.
Content copied verbatim from other websites or wikis will be removed.
Mario Tennis Open
Jump to navigation
Jump to search
Mario Tennis Open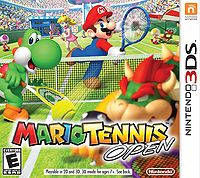 Cover artwork of Mario Tennis Open
N. America:
Physical: May 20, 2012
Digital: December 20, 2012
Japan:
Physical: May 24, 2012
Digital: November 1, 2012
Europe:
Physical: May 25, 2012
Digital: October 18, 2012
Australia:
Physical: May 24, 2012
Digital: October 18, 2012
S. Korea:
April 18, 2013
Blurb
Compete with friends, family and rivals on the court in singles or doubles matches!
Gameplay
Mario Tennis Open plays all the fundamentals of the sport tennis. Various characters from the Super Mario series can play tennis, utilizing a variety of different shots, such as topspin shots, slices, flat shots, lobs and drop shots. If the character is standing within a coloured circle representing a certain kind of shot, and the character uses said shot on the tennis ball, they will use a more powerful or effective version of that shot.
External links
| | |
| --- | --- |
| | This article is a stub. You can help NintendoWiki by expanding it. |