Site Notice
We have a limited coverage policy. Please check our coverage page to see which articles are allowed.
Please no leaked content less than one year old, or videos of leaks.
Content copied verbatim from other websites or wikis will be removed.
Super Mario Bros. 3
Jump to navigation
Jump to search
Super Mario Bros. 3
スーパーマリオブラザーズ3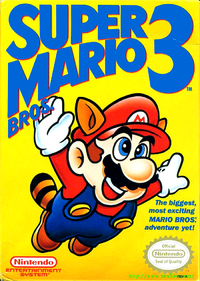 Cover artwork of Super Mario Bros. 3
N. America:
February 12, 1990 (NES)
November 5, 2007 (VC)
Japan:
October 23, 1988 (NES)
December 11, 2007 (VC)
Europe:
August 29, 1991 (NES)
November 9, 2007 (VC)
Australia:
November 9, 2007 (VC)
S. Korea:
May 26, 2008 (VC)
Super Mario Bros. 3 is a platformer video game developed by Nintendo EAD and the last Super Mario Bros. game to be released for the Nintendo Entertainment System. It is the sequel to the Japanese Super Mario Bros. 2 and to the international version.
The game was remade on the Super Mario All-Stars compilation for the Super Nintendo Entertainment System and on the Game Boy Advance as Super Mario Advance 4: Super Mario Bros. 3. It was also released for the Wii's Virtual Console in 2007.
Blurb
"Fight monsters and mini-bosses, avoid ghosts and the burning sun. Make your way through water and quicksand. Dodge cannon balls and bullets and rescue the King's wand!
In Super Mario Bros. 3 there are more warps, more chances at extra lives, and new special suits! The raccoon suit lets you fly and knock out blocks. The frog suit helps you out-swim deadly fish. There are suits for every occasion! Store up flowers and mushrooms to use later on. Play game-show type bonus-rounds! Go back to that last screen and get a mushroom! Pause to take a break, then continue where you left off!
Super Mario Bros. 3 is fun to play alone, or team up with a buddy to prolong the adventure!"
Story
Bowser is back, and along with the Koopa kids, he's out to spoil Mario's day once again. This time, along with nabbing the Princess, the Bowser crew have also taken the magic wands from the Kings of each land and turned them into creatures. It's up to Mario and Luigi to get back the magic wands, defeat Bowser, and save the Princess all before the day is done.
Gameplay
Technical Details
Other Releases
References
External links
| | |
| --- | --- |
| | This article is a stub. You can help NintendoWiki by expanding it. |