Site Notice
Please check our Coverage page to see what deserves an article and what doesn't.
Please no leaked content less than one year old, or videos of leaks.
Super Mario World 2: Yoshi's Island
Jump to navigation
Jump to search
Super Mario World 2: Yoshi's Island
スーパーマリオ ヨッシーアイランド
Sūpā Mario: Yosshī Airando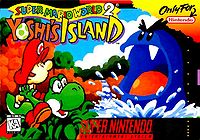 Cover artwork of Super Mario World 2: Yoshi's Island
| | |
| --- | --- |
| N. America: | October 4, 1995 |
| Japan: | August 5, 1995 |
| Europe: | October 6, 1995 |
Super Mario World 2: Yoshi's Island is a 2D platforming game starring Yoshi and based on the Super Mario platforming games. In North America, the game was named to appear to be a sequel to Super Mario World. After several puzzle games starring Yoshi, this is the first platforming game in the Yoshi series, and was followed upon by Yoshi's Island DS and Yoshi's New Island. Yoshi's Island is one of three completed games to use the Super FX 2 chip, which allowed for more advanced 3D graphics, larger sprites, and more advanced graphical effects.
Yoshi Returns to Save Baby Mario in this Sequel to Super Mario World!
The Evil Magikoopa, Kamek, is out to kidnap Baby Mario! In this sequel to Super Mario World, you play as Yoshi. Your goal is to successfully carry Baby Mario back to his parents in the Mushroom Kingdom while avoiding all of Kamek's clever traps and evil minions. Enjoy the various backgrounds of the rich and vibrant locales of Yoshi's Island as you race to complete your quest.
Is Yoshi up to the momentous task at hand? Help him toss his eggs, manipulate unique objects and solve puzzling situations! When in doubt, don't be afraid to try EVERYTHING!!
A stork is out delivering a pair of twins to their parents when Kamek suddenly flies by. He kidnaps one of the babies, while the other is sent falling down toward the ocean below. Meanwhile, on Yoshi's Island, Yoshi is out on a walk when the baby suddenly lands on his back. Yoshi goes to the other Yoshis, who agree to carry Mario across the island via a relay system to reunite him with his brother.
Gameplay
[
edit
]
| | |
| --- | --- |
| | This section is a stub. You can help NintendoWiki by expanding it. |
Development
[
edit
]
Following the completion of Super Mario World, while coming up with ideas for a new project, Shigefumi Hino came up with the idea of a Super Mario spin-off game starring Yoshi.[1] Hino discussed the project with Takashi Tezuka, who was working on titles for The Legend of Zelda series at the time (namely The Legend of Zelda: A Link to the Past and The Legend of Zelda: Link's Awakening).[1] Shigeru Miyamoto has also stated that he had wanted to create a game starring Yoshi since the development of Super Mario World, and, disliking previous games based around Yoshi (such as Yoshi, Yoshi's Cookie, and Yoshi's Safari), wanted to create a game that would better represent the character.[2] Yoshi's Island was in development for four years.[3]
Hino wanted to develop a game starring Yoshi as he felt that they had already done everything possible with a side-scrolling game with Super Mario World, and that using Yoshi would allow for new actions.[1] Aspects such as the Flutter Jump and timer mechanic were introduced to help players who were not as skilled at playing platform games.[1]
When Miyamoto showcased an early version of the game to Nintendo's marketing department, it was rejected as the game's visuals were seen as lacking compared to Donkey Kong Country's pre-rendered visuals.[2] Because of this, it was decided that the game would use a hand-drawn art style, which was approved.[2] While the team considered using a pre-rendered visual style, development had progressed far enough that this was unfeasible.[1] When considering the exact style that would be used for the game's hand-drawn graphics, Hisashi Nogami drew a background using markers and scanned it, considering how to use it in the game; when other members of the team saw the drawing, it was decided that Nogami's drawing would be the basis for the game's graphical style.[1] The game was originally intended to use the basic Super FX chip to support the game's graphical effects, but was replaced with the Super FX 2 chip late into development.[3]
Partway through the game's development, Tezuka and Hideki Konno shifted their focus toward projects for the upcoming Nintendo 64 console such as Super Mario 64, leaving Hino, Nogami, and one other designer to work on the game.[1] The remaining team asked SRD to help program the game.[1] After the game received a positive evaluation from the sales and distribution staff, Miyamoto, Konno, and Tezuka returned to the project to help finish and polish the game.[1]
Technical details
[
edit
]
| | |
| --- | --- |
| Media | SNES Game Pak |
| Input / compatible controllers | SNES controller |
Other releases
[
edit
]
External links
[
edit
]


Super Mario World 2: Yoshi's Island on other NIWA Wikis:
References
[
edit
]