Site Notice
We have a limited coverage policy. Please check our coverage page to see which articles are allowed.
Please no leaked content less than one year old, or videos of leaks.
Content copied verbatim from other websites or wikis will be removed.
Undake30 Same Game Daisakusen Mario Version
Jump to navigation
Jump to search
The subject of this article has been called into question as it may be outside the Wiki's scope, in accordance with the coverage policy. Please discuss this on the article's

talk page

.

This article has been marked since July 11, 2019
Undake30 Same Game Daisakusen Mario Version
UNDAKE30 鮫亀大作戦 マリオバージョン
Japan:
January 16, 1995 (cartridge)
April 1995 (Satellaview)
©1995 Nintendo
©1995 Hudson Soft
Undake30 Same Game Daisakusen Mario Version is a game in the Super Mario series for Super Famicom.
Summary
This software is a puzzle game based on SameGame, which is similar to the Monte Carlo card game, and features Mario themed tiles and a Mario-themed title screen. It was only released in Japan. It can be played either with the D-pad or Super NES Mouse.
It is similar to Mario & Wario because the game is entirely in English and can be played with the SNES Mouse, despite only being released in Japan.
Originally, a cartridge version of this game was released, but only as a video game tournament prize.[which?]
It can now be quite expensive to buy second-hand. Later, another Japan-only modified version of the game was released as a Satellaview SoundLink game featuring Sugiyama Kazuko; Bomberman's voice actor but the Satellaview service is now long-defunct.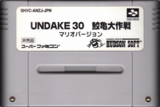 References
| | |
| --- | --- |
| | This article is a stub. You can help NintendoWiki by expanding it. |