Site Notice
We have a limited coverage policy. Please check our coverage page to see which articles are allowed.
Please no leaked content less than one year old, or videos of leaks.
Content copied verbatim from other websites or wikis will be removed.
Captain Toad: Treasure Tracker
Jump to navigation
Jump to search
Captain Toad: Treasure Tracker
進め!キノピオ隊長
Susume! Kinopio Taichō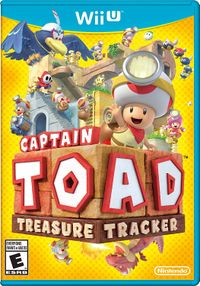 North American box art
| | |
| --- | --- |
| N. America: | December 5, 2014 |
| Japan: | November 13, 2014 |
| Europe: | January 2, 2015 |
| Australia: | January 3, 2015 |
Captain Toad: Treasure Tracker is a 3D puzzle-platforming game released for Wii U in 2014 and developed by Nintendo EAD Tokyo. The game is based on "The Adventures of Captain Toad" stages in Super Mario 3D World, and stars Captain Toad as the main protagonist.
Blurb
Box
A tricky treasure hunt starring... Captain Toad!
More than 70 worlds of adventure await, each one a puzzle you can solve.
Maneuver through maze-like mini-universes by twisting, turning, and touching the Wii U GamePad controller. Check out every angle for hidden gold and gems!
The Captain's Moves
Captain Toad can't jump, but he CAN trounce enemies and switch up the course terrain–in his own unique way, of course.
Pluck
Throw
Swing
Ride

Adventure as Toadette too!
Nintendo website
Ready for Adventure!
The intrepid Captain Toad sets off on his own adventure for the very first time through a wide variety of tricky, enemy-infested, maze-like stages to find hidden gems and nab elusive gold stars.
FEATURES:
Equipped with nothing more than a neck scarf, backpack and oversized head lamp, Captain Toad finds hidden gems, coins and power-ups on his way to the gold star at the end of each tricky, trap-filled stage.
Captain Toad isn't particularly fast or strong. He can't jump and he has no super powers. But he knows that sometimes, it's all about wits and perspective.
Twist the camera to reveal hidden locations and other secrets. The Wii U GamePad offers a closer view of the dangers and hidden items in each maze, and its gyro controls can also be used to peer around.
Captain Toad's world is brimming with life, with dangerous enemies, tricky platforms, nasty traps and secrets to uncover. Each stage is its own puzzle to solve, and littered throughout are hidden items in hard-to-reach places. Can you help our tiny adventurer survive to find them all?
Ready for adventure? Captain Toad stars in his own puzzling quest through maze-like mini-universes–only on Wii U™.
Each stage is stacked with tricks, so our stubby hero will have to use his wits to dodge dangers and track those treasures. Survive smoldering volcanoes, hazardous steam engines, haunted houses, and more–all in the name of treasure!
That's Captain Toad's mission on life–to hunt juicy valuables like Super Gems and Power Stars across puzzling microcosms of danger and delight. Along the way, he'll have to reclaim stolen goods, not to mention the beloved Toad Brigade member Toadette, who's been nabbed by a greedy bird.
This tiny hero will have to waddle, hide, pluck, chuck, and power-up his way through enemy-infested locales like wild west shanties, beautiful towers, and Goomba waterparks–all bursting with goodies to find and secrets to unearth.
Point your head-mounted flashlight towards adventure!
Gameplay
Gameplay is similar to the Captain Toad levels in Super Mario 3D World. As Captain Toad cannot jump, stages are generally smaller and more puzzle-oriented than regular Mario games, though the main goal, like in previous 3D Super Mario titles, is to reach the Power Star at the end. Instead of jumping, Captain Toad can pull on Pluck Plants and toss items such as vegetables to attack similar to Super Mario Bros. 2. Captain Toad can also pull up items, and can pull on levers to progress further. Also within every stage are three Super Gems to collect, and every stage also has a bonus objective that can be completed, which is only revealed once the stage is completed.
By scanning a Toad amiibo before starting a stage, the player can access a hide-and-seek game in which the player must find an 8-bit stylized Toad sprite in every stage. Using any other amiibo gives the player additional 1-Up Mushrooms.
Technical details
Media

Wii U Game Disc
Digital download

Download size

1913.9 MB

Supported features

Off-TV Play, amiibo (read only)

Input / compatible controllers
Updates
| Version no. | Release date(s) | Description |
| --- | --- | --- |
| 1.1 | March 19, 2015 | Adds compatibility with amiibo. |
Other releases
| Title | Cover art | Platform | Release date(s) | Notes |
| --- | --- | --- | --- | --- |
| Captain Toad: Treasure Tracker | | Nintendo Switch | WW: July 13, 2018[1][2][3][4] | A direct port of the game for Nintendo Switch. This version includes new content based on Super Mario Odyssey and a second player assist mode. |
| Captain Toad: Treasure Tracker | | Nintendo 3DS | WW: July 13, 2018[1][2][3][4] | A port of the game released for Nintendo 3DS. This version includes new content based on Super Mario Odyssey, stereoscopic visuals, and bottom screen functionality similar to the Wii U version. |
Gallery
External links
References