Site Notice
We have a limited coverage policy. Please check our coverage page to see which articles are allowed.
Please no leaked content less than one year old, or videos of leaks.
Content copied verbatim from other websites or wikis will be removed.
New Super Mario Bros. U
Jump to navigation
Jump to search
New Super Mario Bros. U
ニュー・スーパーマリオブラザーズ・U
Nyū Sūpã Mario Burazãzu Yū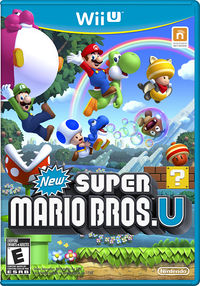 Cover artwork of New Super Mario Bros. U
New Super Mario Bros. U is the fourth entry in the New Super Mario Bros. series of Super Mario games and a launch title for the Wii U. The game is based upon the New Super Mario Bros. Mii tech demo at E3 2011, meant to show off the system's Off-TV Play capabilities.
Blurb
Box
An all-new Mario adventure-only on Wii U!
Explore a gigantic world solo, or help out your friends by using the Wii U GamePad controller!
Push your Mario™ skills to the limit with the new Challenge and Boost Rush modes.
Share your gameplay experiences with friends by posting messages straight to the World Map with Miiverse™.
Nintendo website
New Ways to Play and Share Your Mario Fun
New Super Mario Bros. U is a new, side-scrolling adventure featuring Mario, Luigi, Toad … and your Mii character. Now's your chance to step inside the Mushroom Kingdom and explore new worlds, new power-ups and new ways to play. Up to five players* can jump into the fun, with up to four people using Wii Remote controllers and one on the Wii U GamePad. The experience is different, depending on which controller is used.
The Wii U GamePad controller offers a new way to experience multiplayer Mario fun. Create Boost Blocks out of thin air to help players navigate tricky stages or access hidden orhard-to-reach items, and distract onscreen enemies, all with the tap of their finger or stylus.
Swoop through levels and cling to walls when Mario transforms into Flying Squirrel Mario, or gently float through the air while hanging onto Balloon Baby Yoshi.
Boost Mode also makes cooperative speed runs possible for the first time. Use the GamePad to interact with and manipulate enemies and objects in real time, and discover new ways to find the fastest route through each stage.
In addition to the main Story Mode, in which players must rescue Princess Peach, New Super Mario Bros. U features three more exciting game modes, including:

◦ Boost Rush: Using Boost Mode, two to five players work together to clear many different courses in the fastest time possible. The scene auto scrolls, forcing you to move ahead through the course. As you collect more coins, the scene scrolls faster. Once you've completed your run, you can watch a replay of other players' Boost Rush to help strategize for your next attempt.
◦ Challenge Mode: Numerous single-player and multiplayer challenges incorporate a series of familiar Super Mario gameplay concepts in a fun, competitive way. These challenges offer high replay value as players try to achieve the best score and unlock new challenges. Boost Mode Challenges help players practice the teamwork necessary for effective Boost Mode gameplay. After finishing, players can watch a replay of their Challenge to strategize for next time.
Play on the big screen or the small screen. Switch single-player gameplay from the TV to the GamePad at any time to continue playing even when others are using the TV.
Families and friends can experience Mario together like never before with Miiverse. See other players' comments and accomplishments while you play, and leave your own feedback for others to see when connected to the Nintendo Network (broadband Internet access required).
Nintendo eShop
The New Super Mario Bros.™ U game offers new ways to play with the Wii U GamePad controller in a side-scrolling Super Mario Bros game for up to five people* and with Miiverse™ connectivity.
Play through a new side-scrolling platform adventure as Mario™, Luigi™, Toad™ or even as your personal Mii™ character, swooping with the Flying Squirrel transformation or floating over enemies with the help of Balloon Baby Yoshi.
The GamePad offers new ways to play, letting a fifth player join the action; he or she can place Boost Blocks and manipulate enemies to assist or challenge the other players as they try to reach the end of the level and rescue Princess Peach™.
Additionally, a player can play directly on the GamePad in single-player mode, off-TV, while other people in the living room use the TV.
Story
Mario, Luigi, Blue Toad, Yellow Toad and Princess Peach are having dinner together when Bowser and the Koopalings arrive in their airships, grabbing the heroes out of the castle and flinging them into the distance. The heroes must now travel back to Peach's Castle to reclaim it from Bowser and rescue Peach.
Gameplay
The game uses similar gameplay to previous 2D Super Mario games. The goal of each stage is to reach the Goal Pole within the given time limit, while jumping over obstacles and over or on enemies. The four-player simultaneous multiplayer featured in New Super Mario Bros. Wii returns here, allowing up to four players to play using a Wii Remote (or a Wii U Pro Controller in an update) though in this game a fifth player can use the Wii U GamePad to place blocks for the other players and stun enemies in what is known as Boost Mode; the GamePad can also be used when playing alone, for Off-TV Play. Other gameplay mechanics and items featured in New Super Mario Bros. Wii also return, though returning from Super Mario World are Baby Yoshis, of which there are three types, each with their own abilities.
Miiverse integration is featured in the form of being able to post to Miiverse at the end of a stage at points, as well as displaying posts when the player dies. Players can also post at any point on the World Map, which is where the Miiverse settings for this game can be configured. The player may also receive a prompt to post after clearing a stage.
New Super Mario Bros. U also features three additional modes: Challenge Mode, in which the player must complete specialized platforming challenges; Boost Rush, in which the player must play through a set of the game's stages in an auto-scrolling challenge that increases in speed as the player collects coins; and, also returning from New Super Mario Bros. Wii, Coin Battle, in which players compete by attempting to collect the most coins in a stage.

Technical details
Media

Wii U Game Disc
Digital download

Download size

2301.7 MB

Save data size

Personal: 1536 KB
Shared: 12 MB

Supported features

Nintendo Network (Miiverse), 5-player local multiplayer

Input / compatible controllers
Additional content
Updates
| Version no. | Release date(s) | Description |
| --- | --- | --- |
| 1.1.0 | November 18, 2012 | Enables Miiverse functionality. |
| 1.2.0 | March 15, 2013 | Sends any Miiverse posts made in-game to a new "Game Posts" community. |
| 1.3.0 | June 20, 2013 | Adds compatibility with the New Super Luigi U DLC, adds a prompt to the main menu to go to the Nintendo eShop and download the DLC, adds Wii U Pro Controller support. |
Downloadable content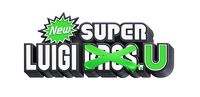 In 2013, an expansion pack titled New Super Luigi U was released to commemorate the Year of Luigi, a celebration of Luigi's introduction 30 years ago in Mario Bros. As the name implies, the expansion features Luigi as the star character rather than Mario (who is replaced with Nabbit, a new character introduced in the base game). While the base gameplay and world map remain the same, the stages have been replaced with brand new courses designed to be shorter but more difficult, and the time limit on every stage has been shortened to 100 seconds.
New Super Luigi U was originally released on June 19, 2013 in Japan, June 20 in North America and Europe, and June 21 in Australia. It requires 731.4 MB of space to be able to download and install. The game was later released as a standalone title exclusively for the Year of Luigi, on July 13, 2013 in Japan, July 26 in Europe, July 27 in Australia, and August 25 in North America.
Other releases
Title
Cover art
Platform
Release date(s)
Notes
New Super Mario Bros. U + New Super Luigi U
Wii U
Bundle:
NA: November 1, 2013
EU: November 7, 2013
AUS: November 8, 2013
Standalone:
NA: October 16, 2015
A compilation release of New Super Mario Bros. U and New Super Luigi U on a single Game Disc, alongside several bonus videos. While originally available only with the Mario & Luigi Wii U Deluxe Set, the game was later given a standalone release.
New Super Mario Bros. U + New Super Luigi U
Wii U (Nintendo Selects)
EU: April 15, 2016
AUS: May 8, 2016
A standalone release of the game in the PAL region under the Nintendo Selects line.
New Super Mario Bros. U Deluxe
Nintendo Switch
WW: January 11, 2019[1][2][3][4]
A port of the game that includes the New Super Luigi U content and new features.
External links


New Super Mario Bros. U on other NIWA Wikis:
References