Site Notice
We have a limited coverage policy. Please check our coverage page to see which articles are allowed.
Please no leaked content less than one year old, or videos of leaks.
Content copied verbatim from other websites or wikis will be removed.
Yoshi's Crafted World
Jump to navigation
Jump to search
Yoshi's Crafted World
ヨッシークラフトワールド
Yosshī Kurafuto Wārudo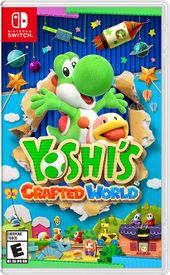 North American box art.
| | |
| --- | --- |
| Worldwide: | March 29, 2019[2][3] |
Yoshi's Crafted World is a 2D platforming title in the Yoshi series, developed by Good-Feel and released for Nintendo Switch in March 2019.
Blurb
Nintendo website (E3 2017)
---
Discover the flip side of Yoshi's world

Lead Yoshi on a brand new adventure that will turn everything you've come to expect from side-scrolling games upside down! Explore a great, big world decorated like a miniature diorama in a new art style for the franchise, where each side-scrolling stage has the traditional front side as well as a flip side with different views and surprises. Look for items throughout the stage as Yoshi makes his way to the goal. You can even join up with a friend!

Features:

Join Yoshi in this new action platforming game
Each course offers both a main path and a hidden path that offers different views and surprises
The lively art style looks like a minature diorama
Enjoy simultaneous 2-player action
Story
On the highest peak of the island where the Yoshis live is an artifact called the Sundream Stone, said to have the power to grant any wish.[2] Baby Bowser and Kamek, having heard about the stone's powers, arrive on the island to take the stone for themselves. The Yoshis try to stop them, which causes the stone's gemstones to become detached. The Yoshis, Baby Bowser, Kamek, and the stone are sent flying, while the gems are scattered across several worlds.
Gameplay
The game plays similarly to previous 2D Yoshi games. Like in Yoshi's Woolly World, Yoshi is given a heart-based health bar. The game combines elements of 2D and 3D games, allowing Yoshi to move into the background of certain areas along a linear path. The player can begin each stage either from the normal view or the reverse view, allowing them to see elements that otherwise may have gone unseen; certain stages also feature switches that change the perspective when hit.
This title also features 2-player co-operative play.[4]
Development
Yoshi's Crafted World is being developed using Unreal Engine 4.[5][6]
Technical details
Media

Nintendo Switch Game Card
Digital download

Download size

5.3 GB

Supported features
Input / compatible controllers
Demo
A demo for the game was released on the Nintendo eShop worldwide on February 13, 2019. The demo requires 511 MB of data to download.
The demo version allows players to play through the first stage of the game, Rail-Yard Run. The stage can be played in both its "Front Side" and "Flip Side" variations. Players can switch between Classic and Mellow Mode, and co-op multiplayer. Once the demo has been cleared, the player will be shown a video showcasing some of the game's other stages, and will be given a prompt to either return to the title screen or visit the Nintendo eShop.
Gallery
External links


Yoshi's Crafted World on other NIWA Wikis:
References