Site Notice
Please check our Coverage page to see what deserves an article and what doesn't.
Please no leaked content less than one year old, or videos of leaks.
Super Smash Bros. Brawl
Jump to navigation
Jump to search
Super Smash Bros. Brawl
大乱闘スマッシュブラザーズX
Dairantō Sumasshu Burazāzu X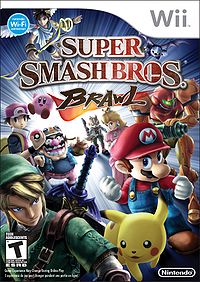 Boxart for Super Smash Bros. Brawl
| | |
| --- | --- |
| N. America: | March 9, 2008 |
| Japan: | January 31, 2008 |
| Europe: | June 27, 2008 |
| Australia: | June 26, 2008 |
| S. Korea: | April 29, 2010 |
Super Smash Bros. Brawl is the third game in the Super Smash Bros. series. Announced during a pre-E3 2005 press conference, the game was developed by a team composed of developers gathered from across multiple companies and faced multiple delays before finally being released in 2008 for the Wii. Super Smash Bros. Brawl is the first game in the series to feature characters from third-party franchises. Due to the game's larger file size, it is the first Wii game to use a dual-layered disc.
Nintendo Worlds Collide!
Anything can happen in this action-packed fighting game as you square off with tons of characters, from Mario™ to Link™ to Pikachu™. With limitless customization and a wealth of modes, there's no end to the smashing fun!
Weapons and assistants that boggle the mind!
Solid Snake and Sonic the Hedgehog join the brawl!
Brawl Online
Take the fight to distant friends as you brawl with up to four players over Nintendo© WFC. You can even send custom-made stages or screenshots to friends.
Exchange friend codes and you can use custom taunts!
Join the Adventure
Challenge events, play stadium and classic modes, or fight through a cinematic adventure! One or two players jump and brawl through enemy-packed side-scrolling levels as they meet Nintendo characters and battle massive bosses.
Nintendo website
[
edit
]
The Brawl to end them all!
Welcome to a brawl for the ages, where anything can happen, anyone can show up and all bets are off.
This action-packed fighting game features a ridiculous number of characters that have appeared on Nintendo platforms, from Mario to Link to Pikachu ... to Solid Snake! As they square off in famous locales drawn from the rich history of Nintendo, literally anything can happen - and usually does. With limitless customizing options, items and weapons that boggle the mind and a wealth of modes, this game has truly infinite replayability.
Super Smash Bros. Brawl features a sprawling adventure mode called "The Subspace Emissary" that's a full game in and of itself. Players jump and brawl their way through enemy-packed side-scrolling levels, meeting up with other characters, watching incredible cinematics and taking on massive bosses.
For the first time, this celebrated series is going Wi-Fi, allowing up to four players to brawl, no matter where they may be.
Game storyline: In multiplayer games, characters from all Nintendo universes meet up in Nintendo locales to duke it out. In the solo mode called "The Subspace Emissary," the world of Smash Bros. is invaded by an entity called the Ancient Minister and his army of creatures, called "The Primid." Normally, characters come alive in the world of Smash Bros. to do battle, then turn back into trophies when defeated. However, the Ancient Minister starts turning characters into trophies to harness their power, then detonates bombs that suck pieces of the world back into his realm of Subspace. Eventually, all the characters must work together to defeat the invading creatures from Subspace - this is accomplished by playing through side-scrolling levels.
How to progress through the game: For multiplayer games, players pick characters, set rules and locations for where they want to play and then duke it out. In Solo Mode, characters play through a long, side-scrolling adventure, beating up enemies along the way as they watch short cinematics starring their favorite characters.
Characters: Mario, Samus, Bowser, Donkey Kong, Solid Snake, Meta Knight, Kirby, Pikachu, Zero Suit Samus, Link, Zelda, Pit and Wario, to name just a few. Anyone and anything from a Nintendo universe could appear in this game in one form or another.
Special powers/weapons/moves/features: Anything from a Nintendo game could conceivably be in this game, whether it's a musical score, an obscure item or a character that shows up to help the fighters. Super Smash Bros. Brawl is eminently customizable, so players can choose the frequency of items appearing, adjust musical scores and basically play the game however they'd like. Items range from baseball bats to proximity mines to Poké Balls to Assist Trophies, which spawn characters like Hammer Bros. and Sim City's Dr. Wright to attack others.
The Subspace Emmissary is the game's primary storyline. It takes place in the World of Trophies, where a force known as the Subspace Army has emerged and threatens to use Subspace Bombs to draw the entire world into Subspace and turn all the fighters in the world into trophies. The various Nintendo characters must join up in a quest to stop the forces of Subspace from taking their world.
Gameplay
[
edit
]
Super Smash Bros. Brawl plays similarly to previous installments. To make the game more beginner-friendly and accommodate the Wii Remote controller, the overall speed of the game has been decreased from previous installments. In addition to the existing items, new items have been added such as the Assist Trophy, which summons another Nintendo character to assist the player. Each character also has a new move known as a Final Smash, an extremely powerful attack which can only be used by breaking a Smash Ball.
In addition to the standard 2-4 player multiplayer, and the returning modes from Super Smash Bros. Melee such as Classic, All-Star, and Events, this game also features a new Adventure Mode in the form of The Subspace Emissary, a story mode in which players play through platforming-oriented stages and face enemies in a beat-em-up style. By playing modes, players can earn coins, which can be used in the Coin Launcher to earn Trophies and a new collectible called Stickers, which can enhance characters' stats in The Subspace Emissary.
While the game features over 40 total stages, players are able to use the Stage Builder to create their own. Stages created in this manner are saved to either system memory or the SD card (if one is inserted) and cannot. Snapshots taken in-game can also be saved to the SD card.
Finally, this game features a Masterpieces mode, in which players can timed demos of past Nintendo games.
Technical details
[
edit
]
Other releases
[
edit
]
Title
Box art
Platform
Release date(s)
Notes
Super Smash Bros. Brawl
Wii (Nintendo Selects)
EU: 2013
AUS: 2013
KOR: 2014
A re-release of the game under the Nintendo Selects branding.



External links
[
edit
]