Site Notice
Please check our Coverage page to see what deserves an article and what doesn't.
Please no leaked content less than one year old, or videos of leaks.
Nintendo Wi-Fi Connection
Jump to navigation
Jump to search
Nintendo Wi-Fi Connection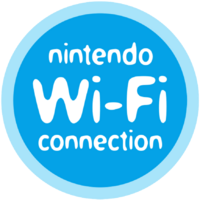 The Blue Nintendo WFC Logo.
| | |
| --- | --- |
| Provider: | Nintendo |
| Launched: | 2005 |
| End of service: | 2014 |
| Service provided: | Online Wireless Communications |
| Accessible by: | Internet |

The Nintendo Wi-Fi Connection (abbreviated WFC; Wi-Fi is short for Wireless Fidelity, Japanese: ニンテンドーWi-Fiコネクション) is Nintendo's online match making service available for use by a specifically designed game on a Nintendo system specifically designed to make use of the service. While the system itself is very capable as far as actual matches are concerned, the manner in which it was designed severely limits the creation of an online community. The Nintendo DS and Wii made use of the system until May 24, 2014, when it was discontinued (and can no longer be used without unauthorised modifications).
Utilizing the Service
[
edit
]
When creating the Nintendo Wi-Fi Connection, Nintendo aimed to remove the barriers faced by users when attempting to play games online. The system is currently free, and Nintendo has made no indication that they will charge in the future. Secondly, the system has been designed to be easy to use.
Logging In
[
edit
]
First, players must find a wireless access point or hotspot. The most common access points are those in people's homes in the form of wireless routers. Often used to connect computers, printers, and other electronic devices, the router's settings can be adjusted to accept the system as well. The first time a player attempts this, he or she must modify and save a connection file on their system using a step-by-step process. After the router and the Nintendo system find each other and the router gives access, the player can log in at any time. Common problems faced by first-time users include firewalls and parental controls.
In an attempt to enlarge the user base, Nintendo released the Nintendo Wi-Fi USB Connector. This device connects Nintendo hardware to the Internet and is particularly useful for players without normal routers. Also, a player can link his or her Nintendo DS to the Connection at Wi-Fi enabled McDonald's restaurants for free. When no other option is available, it is also possible for a computer connected to the Internet to create a hotspot.
The Wii can also be connected to the Internet with a wired LAN connection. For this, the Wii LAN Adapter has to be bought separately. It is plugged into one of the USB ports at the back of the Wii and offers a port for LAN cables.
Match-Making
[
edit
]
Once logged into the service, the game system takes players to the online lobby of the video game they are playing. Since there are no user accounts, Nintendo has created Friend Codes and Wii System Codes. Friend Codes are automatically assigned to a game when it has connected to Nintendo WFC for the first time. Each Friend Code is unique and it is impossible for two game units (if they are the same game) to have identical Friend Codes. The player cannot alter the Friend Code in anyway and the only way to get a new one is delete saved data on the game unit and connect to Nintendo WFC again. The player can register codes and user name of another player using Nintendo WFC. Wii System Codes work in a similar manner, but are exclusive only to the Wii console's messaging service.
While each game makes a different use of the system, there are typical options for Wi-Fi enabled games. In Worldwide play, games are matched with a random player from anywhere around the globe. Regional play allows players to battle other players who have the same regional version of the game. For example, a player with the European version would battle another player with the same version. Next, Rivals mode pairs players of similar skill levels. Friends mode allows players to compete against other players with whom they have exchanged their Friend or Wii System Codes. This mode often includes more features, including voice chat.
Functionality
[
edit
]
There is usually no lag in the system because the connection has less users than computer online games. Nintendo has no games that connect to IRC but it may be available in the pay and play service.
Pay and Play
[
edit
]
Nintendo recently announced the Pay and Play service. As opposed to the free online play that current games have, Nintendo will request payment for online gameplay from certain upcoming titles. Games using Pay and Play will come with a red Nintendo Wi-Fi Connection seal on their packaging instead of the blue one, which represents free Wi-Fi gameplay. Games that are currently free will remain as such.
History
[
edit
]
Looking back, Nintendo's online plans for the Nintendo Entertainment System, Super Nintendo Entertainment System, and Nintendo 64 ultimately failed to create a reliable online system that would serve Nintendo for as long as it desired. When the Nintendo GameCube was released, it technically had the ability to go online with the use of a special adapter, but Nintendo left it up to developers to create a reliable service. When the GameCube's rivals, the PlayStation 2 and Xbox, supported flourishing online services, many critics attacked Nintendo for having an archaic view of online games.
In May 2004, rumors began to circulate that Nintendo would be launching an online service. Finally, Satoru Iwata gave the big announcement on March 10, 2005 at the 2005 Game Developers Conference. He stated that the service would be free and connecting to the service would be easy. However, it was not until May of that year at the 2005 Electronic Entertainment Expo that the service was given an official name, the Nintendo Wi-Fi Connection.
Pairing with IGN Entertainment to utilize the already active GameSpy match-making service, Nintendo was able to give the WFC the match-making ability without the use of servers. The big issue behind most other online plans is the operation of servers. However, Nintendo sidestepped this problem by giving the Nintendo DS the ability to connect with one another without the use of the service after match-making was complete. Yet, this created a new problem. If a company wishes to expand online features beyond match-making, they are forced to manage their own network. This means that massively multiplayer online games are not compatible with Nintendo's service as it stands.
On November 14, 2005, the system went public with American releases of Mario Kart DS from Nintendo and Tony Hawk's American Sk8land from Activision. The second Nintendo title, Animal Crossing: Wild World followed shortly after.
Nintendo of America paired with Wayport in an effort to increase the user base of the connection. Through their partnership, Nintendo was able to utilize the Internet hotspots at all compatible McDonald's restaurants throughout the United States. Players could then log onto WFC for free by simply playing at one of the restaurants in the same way they could play in their homes. In other public areas that offered wi-fi services, however, the Nintendo DS required a personal computer or laptop to create a hotspot for it.
Less than four months after its November 14, 2005 release, the service had seen more than one million specific users worldwide, with over twenty-seven million connections. On March 30, 2007, Nintendo announced that over 5 million unique users and over two hundred million sessions had occurred due to the service.
While the Wii had utilized the connection since its release for software updates and Wii Connect24, its first online game was released by Nintendo of Japan on December 14, 2006, Pokémon Battle Revolution. Soon after, Nintendo of Europe released Mario Strikers Charged Football on May 25, 2007. Nintendo of America brought the American Wii online on June 25, 2007 with the release of the localized Pokémon Battle Revolution. In Korea, the first game using Wi-Fi Connection was Rayman Raving Rabbids 2.
Reception
[
edit
]
Nintendo Wi-Fi Connection is often criticized because it lacks many features which have become common and even expected in an online service. Features such as voice chatting are present in very few games, and the necessity of Friend Codes (as opposed to merely asking someone on a game you've played to be added to your list) is regarded by many as a poor decision on Nintendo's part.
Sources
[
edit
]
External links
[
edit
]
Nintendo online services
 • Famicom Network System (Famicom, 1988)
 • Satellaview (Super Famicom, 1995) (scheduled satellite broadcast/download, but not Internet)
 • Randnet (Nintendo 64DD 1999)
 • Mobile System GB (Game Boy Color/Game Boy Advance w/Mobile GB Adapter and mobile phone, 2001)  • Online Nintendo GameCube gameplay (Nintendo GameCube, w/GameCube Broadband Adapter/Modem Adapter, 2002)
 • Nintendo Wi-Fi Connection (Wii, Nintendo DS Lite, Nintendo DSi, Nintendo DSi XL optionally w/Nintendo Wi-Fi USB Connector, Nintendo DS & DSi Browser, 2006)
 • Nintendo Network (Nintendo 3DS, Wii U, Web, 2012/3)
 • Nintendo Switch Online (2018; Nintendo Switch)
 • Websites (Nintendo web browser games)