Site Notice
Please check our Coverage page to see what deserves an article and what doesn't.
Please no leaked content less than one year old, or videos of leaks.
Nintendo web browser games
Jump to navigation
Jump to search
Nintendo have historically had numerous (poorly documented but common) miniature web browser games on official sub-sites (e.g. Adobe Flash-games).
Sometimes the sub-sites are taken down, bringing the web browser games down with them.
Examples
[
edit
]
Chick Chick Boom: An artillery/combat game featuring a battle between yellow/black baby chicks by Extra Toxic, sponsored by Nintendo of Europe. It was also released on the Wii Shop Channel as WiiWare before its closure.
Kyorosuke-sama no Chara Shindan: Japanese The Legendary Starfy (game) character quiz featuring the character Moe (Kyorosuke in Japan).
Setsuna no Tsumami Gui: Japanese Speed Eaters (from Kirby & the Amazing Mirror) demo
Donkey Konk
Mario's Memory Madness
Wario's Whack Attack
Kremling Krushin
PolterCue
Donkey Kong Country Barrel Maze
Banana Bonanza
Rolling Panic
DK: Jungle Climber -- Banana Grab
Mario Tennis: Power Tour -- Bicep Pump
Mario Tennis: Power Tour -- Reflex Rally
New Super Mario Bros. 1-Up Hunt!
Wario: Master of Disguise Trivia
Yoshi's Island DS -- Yoshi's Egg Toss
DK: King of Swing -- Hurling for Distance
DKC3 -- Barrel-Blastapalooza
Dr. Mario Vitamin Toss
Mario Party 7 -- Bowser's Lair Hockey
Super Mario Strikers -- Heads Up
Super Princess Peach -- Parasol Fall
Mario Hoops 3-on-3 -- Dribble Skillz
Superstar Shootout
Mario vs. DK 2: Cannon Kaos
Tetris DS Puzzle Mode
Diddy Kong Racing DS -- Timber's Balloon Pop
Super Paper Mario Memory Match
Mario Tennis: Power Tour - Bicep Pump: A flash game that is a recreation of the Bicep Pump minigame from Mario Tennis: Power Tour.
Pokémon flash games, Pokémon Dream World (Pokémon Black and White Versions, Pokémon Black 2 and White 2 Versions)
This article is incomplete.
You can help by filling in the missing information.
Chick Chick Boom
[
edit
]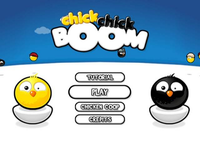 An artillery featuring armies of yellow and black chicks by Extra Toxic, published by Nintendo of Europe for Easter. It was also released as WiiWare.
UPIXO In Action: Mission in Snowdriftland
[
edit
]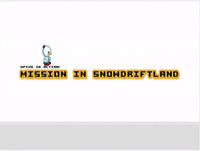 Both a platformer game and advent calendar/Christmas promotion by Extra Toxic and published by Nintendo. Chubby Snow, the snowman, is tasked with locating Snowdriftland to restore game files (pictures of Nintendo games) from the Human World stolen by the evil penguin El Pix. Each day of December 2006, a new level was available up to December 24.
The Legendary Starfy series
[
edit
]
Kyorosuke-sama no Chara Shindan
[
edit
]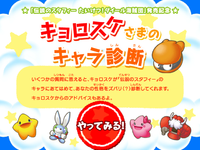 A quiz featuring Starfy's best friend Moe (known in Japan as Kyorosuke) the clam. A series of questions are asked which determine what character from the game the player is most like.
Nintendo Kids Club
[
edit
]
Peach's Puzzle
Luigi's Word Jumble
Match-Up Mario
Nintendo Friends Object Hunt
Captain Toad's Dungeon Dash!
Shadow Spotter
Yoshi's Mix-Up
Make four with Mario
Poochy's Mix-Up
Mario's Festive Mix-up!
Mario's Festive Jigsaw Jumble
Nintendo online services
 • Famicom Network System (Famicom, 1988)
 • Satellaview (Super Famicom, 1995) (scheduled satellite broadcast/download, but not Internet)
 • Randnet (Nintendo 64DD 1999)
 • Mobile System GB (Game Boy Color/Game Boy Advance w/Mobile GB Adapter and mobile phone, 2001)  • Online Nintendo GameCube gameplay (Nintendo GameCube, w/GameCube Broadband Adapter/Modem Adapter, 2002)
 • Nintendo Wi-Fi Connection (Wii, Nintendo DS Lite, Nintendo DSi, Nintendo DSi XL optionally w/Nintendo Wi-Fi USB Connector, Nintendo DS & DSi Browser, 2006)
 • Nintendo Network (Nintendo 3DS, Wii U, Web, 2012/3)
 • Nintendo Switch Online (2018; Nintendo Switch)
 • Websites (Nintendo web browser games)
| | |
| --- | --- |
| | This article is a stub. You can help NintendoWiki by expanding it. |